China Eastern Airlines is set to decide which major world airline alliance it will join in mid-February, China Business News reported Tuesday.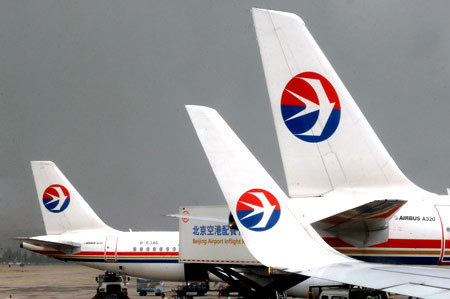 China Eastern aircraft at Beijing Capital International Airport. [China Daily]

Liu Shaoyong, chairman of China Eastern - one of the country's three major carriers, said the airline will make the final decision around the Spring Festival, which falls on February 14 this year, the report said.
Related readings:


 China Eastern expands fleet size


 China Eastern to expand Beijing presence


 China Eastern approved to raise 7b yuan through private placement

 Shanghai Airlines merges into China Eastern
Currently, the other two major Chinese airlines, namely Air China and China Southern Airlines, are members of Star Alliance and Skyteam respectively while China Eastern remains undecided about which airline alliance it will join.
Star alliance, Skyteam and Oneworld are three largest passenger alliances in the world. Members of the same airline alliance could share assets such as sales offices, maintenance and operational facilities, bringing cost reductions for carriers.
Most importantly, the alliance could provide an extended and optimized network through code sharing agreements. The benefits for travelers include possible lower prices, shorter travel times and faster mileage rewards.
Almost all major airlines in the world are participants of alliances.
The three alliances are now competing for gaining China Eastern Airlines' participation. China Business News said in its report that senior officials from the three and some of their member airlines will visit China Eastern later this week to discuss this issue with the carrier.
China Eastern announced a merger plan with Shanghai Airlines last July, a move which analysts believe could reshape the market.
Shanghai Airlines is now a member of Star Alliance. According to the merging plan, it will become a wholly-owned subsidiary of China Eastern and retain its brand and independent operation. It is not yet known if the airline will leave the Star Alliance after the merger.
According to the report, the merging of China Eastern and Shanghai Airlines is going smoothly. Ma Xulun, general manager of China Eastern told China Business News that the market departments of the two carriers will merge into one this month while the merging of maintenance and engineering departments, ground service departments and information technology departments are on the way.
"Generally speaking, we will accelerate the merging and this is the consensus of our two sides," Ma was quoted as saying, "despite the passenger transportation sector, the cargo branches of the two carriers will also be merged."
Currently China Eastern owns 70% of China Cargo Airlines and Shanghai Airlines owns 55% of Shanghai Airlines Cargo.
Ma said China Eastern is now negotiating with other shareholders of the two cargo airlines.