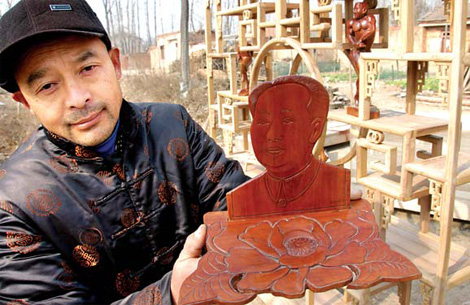 Folk artist Zou Guojun displays a Mao Zedong statue he made. [Zhao Xuefeng/China Daily]

Cheng Wenjun, a freelance photographer who has been taking pictures of Mao statues for the past 10 years, says: "All of China went crazy putting up Mao statues after the official People's Daily published news about it in 1967."
People from all over the country came to Tsinghua seeking information on the design and casting. Soon, statues featuring Mao in his famous wave pose, could be seen in most provincial cities.
In the courtyard of a navy guesthouse on the southernmost Xisha Islands, in Hainan, there is a statue of Mao facing the ocean and waving. Commenting on its special location, Cheng says this particular statue makes, "Mao (look) like a true soldier, a sentinel safeguarding the country's coastlines. It is very impressive."
During the "cultural revolution", erecting these statues was a way of showing loyalty to Mao. But it was not without danger. The slightest defect could send the Red Guard on a witch-hunt. The quality and material had to be flawless.
The white marble for the statue erected in Chengdu's Tianfu Square in 1968 came from the mountain outside Dukou city, now known as Panzhihua (Ceiba Flower), nearly 750 km away.
The rough stone weighed nearly 56 tons, according to the Chengdu Evening News newspaper. A 3-km-long road was built up the side of the mountain so that the stone could be transported to Chengdu. Roadbeds and bridges along the route to Chengdu were heavily reinforced.
The statue shows Mao waving and is huge. His raised arm alone weighs 14 tons. "One finger is about 73-cm big. That was my waistline then," recalls He Longsheng, one of the mechanics who participated in the making of the statue.
Related readings:


 More to Hunan than Mao and Zhangjiajie


 Mao revered as China hails diamond jubilee


 Grandson of Mao eyes promotion


 Famed Mao look-alike in Hong Kong for calligraphy exhibition


 Mao's New Year message in 1949
According to the Evening News, three supporting steel bars were installed in the arm to strengthen it. Lightning rods were built into the arm and the head, and the pedestal was fortified to withstand a magnitude 12 earthquake.
In large part, the building of these statues is what made Mao the center of a personality cult. But most of the monuments to the founder of the People's Republic came down, including the one in Tsinghua, after the "cultural revolution" ended in 1977.
But since many people still regarded Mao as a god who could dispel evil sprits and bring good luck, not all dared to demolish the statues. This has left more than 190 statues surviving to this day.
"These statues still adorn public squares in 120 cities and the towns," says Cheng. Those that were removed from their pedestals were buried, deep in the countryside.
A statue of Mao that was put up in 1968 still stands in the ancient city of Lijiang. An anecdote says, years ago, a local construction company was given a contract to dismantle a huge item. It required the company to get the business done in one night, but didn't specify the item beyond its location. When the workers arrived on site and realized it was a statue of Mao in military uniform and waving, they got scared, and refused to touch it.
Over the past few years, some buried Mao statues have resurfaced thanks to real estate development.
In 2003, a Mao statue was unearthed after lying buried for 25 years at a construction site in an old factory area in Harbin, capital of Heilongjiang province. Cheng says the property developer had the statue repaired and erected amid the century-old workshops, chimneys and towers.
And in Santai county of Mianyang city, Sichuan, an unearthed iron-cast statue, 2.1 m high, stands in the yard of a private residence. It was discovered in 2008 when workers were laying the foundation for the house. "The raised arm was missing when the rusty statue was found. The owner spent 2,000 yuan ($280) to make a new one," Cheng says.
Mao has influenced almost every aspect of modern Chinese life, for better or worse. Art critic Bao Kun says: "Statues of Mao are public art. They represent cultural and art standards, and our understanding of public art, of that era. Historically speaking, these statues have become cultural relics, bearing no influence on politics. They are a part of our history. There is no need to remove them from the public domain."
Mao is still an influence in Chinese life and there is a new wave of casting Mao statues. Cheng notes that the wholesale business of medium-sized statues is booming in some stone-carving factories in the provinces of northern Hebei, eastern Shangdong, and southeastern Fujian.
"A 3-m-tall granite statue of Mao can fetch 30,000 yuan ($4,400). A marble one can fetch much more. These factories can sell 40-50 pieces every year," he says, adding that the buyers are mostly private business owners.
New giant Mao statues are being made as well. Last year, a 40-ton monument of stainless steel was put up in Chongqing Medical School. The statue, rising 20.6 m from a 16.8-m pedestal, is the largest of its kind in the country. But some locals are not happy with it.
"A monument such as this is not supposed to be there to provoke the public, but to provide a model they can identify with," says Zhang Qi, a Chinese painter. "Mao's statue reminds me of a past like Charles Dickens describes in the Tale of Two Cities - 'It was an age of wisdom, an age of foolishness. We had everything before us, and we had nothing before us. We were all going direct to Heaven, and we were all going directly the other way'."
Interestingly, Wang Youxing of Pixian says, he might put up a statue of Mao in his planned nursery.
"After all, Mao was a great man. It is impossible to find someone in China who can be placed on a par with old man Mao."