Mao remembered as New China hails 60th founding anniversary
BEIJING: Tian'anmen Square turns into a sea of colors and joy Thursday morning as a grand parade is set to proceed. In the Memorial Hall of Chairman Mao Zedong, peace and tranquility prevail as usual.
Sixty years has passed since much-revered Chairman Mao announced on Tian'anmen Rostrum the official establishment of the People's Republic of China.
His declaration to the world "The Chinese people have stood up" is now, more than ever before, truly echoed and felt in the country with a population of more than 1.3 billion as it becomes increasingly influential amid rapid economic and social progress.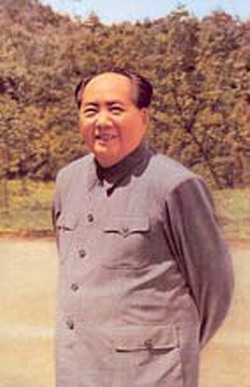 Late Chinese leader Mao Zedong. [Xinhua]
Mao's gigantic portrait on the front of Tian'anmen Rostrum still overlooks Chang'an Avenue, where 13 military reviews have been taken place over the past six decades, and Tian'anmen Square, the world's largest urban square where throngs of visitors never escape a eye contact with the portrait upon entry.
The eclipse of time affects little to change people's admiration for the founding father. Mao badges, posters and statues are found across the country.
The memorial hall, which is located at the heart of the Chinese capital, draws millions of visitors each year. People born after the founding of New China account for large percentage of the army of visitors.
Wang Yuhua, who was born in 1978 in eastern Jiangxi Province, the birthplace of the Chinese Red Army, said his 65-year-old father had deep gratitude for the great leader.
"The first thing my father did after he came to Beijing was asking me to bring him immediately to the Memorial Hall of Chairman Mao Zedong," she says.
She can still recall their visit before the National Day.
Upon entry to the hall, people flow in quietly and in respect, mothers hush their children, youngsters turn off their cell phones.
Full Coverage:


60th Anniversary of PRC
Related readings:


 Beijing perks up for national gala


 Gala zest sweeps China


 Grand gala planned on National Day


 Sales of 60th anniversary coins heat up


 Beijing's night light devices switched on for 60th anniversary
Visitors normally buy bundles of white chrysanthemums and put them on a platform in front of a white seated statue of Mao, to show their respect for the founder of New China, Wang says.
In the room where Mao's remains are kept, two soldiers stand solemnly to guard Mao's coffin. Mao's remains are laid under a sickle-and-hammer red flag of the Communist Party of China.
Mao was born in 1893 in a farmer's family. He died in 1976. Despite his mistakes in his late years, especially in the chaotic Cultural Revolution (1966-76) that brought China to the verge of collapse, his thoughts has spread to many parts of the world.
Wang says her father used to pass down his gratitude for Mao and Mao's stories to her when she was a primary school student.
She says she will tell Mao's stories to her son when he grows up.
Chen Jiashun, a 70-year-old retiree in southwest China's Chongqing Municipality, says he feels lucky as he had a chance to travel thousands of miles in late 1990s to go to the memorial hall and pay his tribute to Chairman Mao.
And he wants to bring his wife to the memorial hall one day to fulfill her wish of visiting the great leader.
Mao's influence is still felt today, not only as a seasoned military strategist, philosopher and statesman, but also as a poet and calligrapher.
Zhao Shouye, a villager in Wenling City of eastern Zhejiang Province, spent more than one month to write on a 75-meter-long drawing paper a calligraphy masterpiece featuring Mao's poetry ahead of the National Day.
For Mao's descendant, the National Day is an occasion for reminiscence.
"More than ten people in the Mao family sacrificed their lives to the revolutionary cause for the founding of New China. When it comes to National Day, I miss them more," the Guangzhou Daily quoted Mao Xinyu, grandson of Mao Zedong, as saying on September 26.