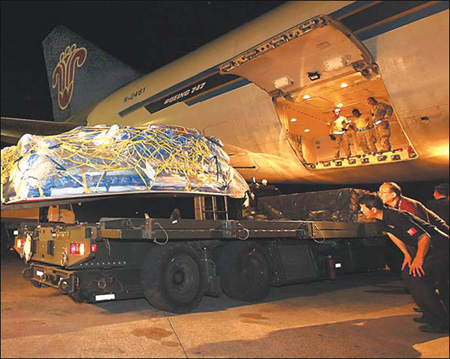 Quake relief materials donated by the Chinese government, including medicine, tents, emergency lamps, water treatment equipment and food and water, arrive in Port-au-Prince, capital of Haiti, yesterday. [Xing Guangli/China Daily]

While people in Haiti are struggling to overcome the tragedy brought by the deadly earthquake, people in Sichuan recalled their own heart-breaking moment in May 2008. Halfway across the globe, hearts with sympathy are ready to offer help.
On Friday afternoon, students at Beichuan Middle School in Beichuan county, Sichuan province, gathered around a huge white banner, writing their wishes for the Haitian earthquake victims.
On the banner was an eye-catching slogan printed in red, reading "The 3,000 students at Beichuan Middle School will be with you," and around the slogan were hand-written sentences in black-ink:
"Hang on, people in Haiti."
"We're friends!"
"Best wishes for you!"
Related readings:


 Bodies of 8 Chinese to arrive home Tuesday


 China's humanitarian aid materials reach Haiti


 Haitians desperate for supplies; rescues continue


 China ready to send more rescue personnel to Haiti


 Swift Chinese relief for Haiti displays sympathism
The school was one of the places hardest hit by the devastating earthquake in May 2008, with half of its 2,600 students killed or missing.
"All we can do is provide moral and modest financial support. We hope the people in Haiti can soon get over the disaster and rebuild their homes," said Tang Gaoping, a physics teacher at the school, in one of his blog entries on Saturday.
Also on Friday, over 3,000 students and teachers in Beichuan collected 11,810 yuan ($1,730) for the victims in Haiti.
"We are trying to show our thankfulness and do what we ought to do," said Xiong Guangwu, vice-principal for the Beichuan Vocational Middle School, in an interview with China Central Television over the weekend.
Victims of the May 2008 earthquake in Sichuan received help from all over the world. By May 2009, over 76.7 billion yuan ($11.2 billion) in cash and goods had been collected, according to the Ministry of Civil Affairs.
Gratitude for the worldwide help and empathy with the Haitian victims has aroused enthusiasm among people in Sichuan to offer help.
On Friday, 8,000 women embroiderers from the province's Aba Tibetan and Qiang autonomous prefecture decided to each take 10 yuan from their daily wages, collecting 80,000 yuan ($11,700) for the victims in Haiti.
On Saturday, the Sichuan Stone Association collected 28,835 yuan ($4,220) at its new years party.
Also on Saturday, the Sichuan Red Cross and the Chengdu Red Cross reportedly said that many residents had visited to make donations and called to ask about being a volunteer to help on the scene in Haiti.
Netizens praised such activities.
"Real experience is far more solid than imagination. Those who haven't been through such disasters may never understand what it means to the victims. That's why I fully support what the students in Beichuan Middle School are doing. I wish the students a bright future, and I hope the people in Haiti can get over their difficulties," a netizen commented on Tang's blog.
"Living on the earth, we are one big family," said another person, commenting on the embroiderers' collection.