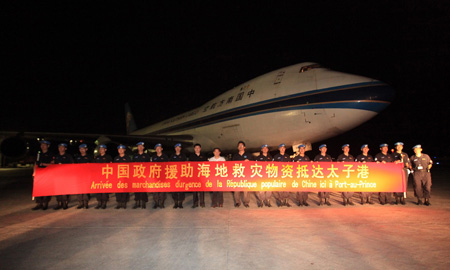 Chinese peacekeepers hold up a welcome banner as the first batch of relief supplies sent by the Chinese government arrived at the airport of Port-au-Prince on Sunday. [Photo/Xinhua]

PORT-AU-PRINCE: The first batch of relief supplies from China arrived at the airport of the capital city on Sunday.
According to China's relief officials here, the supplies, which weigh 90 tons and worth over 13 million yuan (about $1.9 million), include drugs, tents, emergency lights, water purification supplies, food, drinking water and cloths.
China's rescue team arrived in Haiti on Thursday, two days after the Latin American country was devastated by a major earthquake measuring 7.3 magnitude. The World Health Organization has estimated that between 40,000 to 50,000 people have been killed in the earthquake.