Ex-top judge is first grand justice in the country charged with graft
The former vice-president of China's top court stood trial yesterday for embezzlement and taking bribes, making him the highest-ranking judicial official facing such charges since the founding of the People's Republic of China in 1949.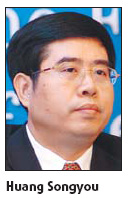 Huang Songyou, 56, former vice-president of the Supreme People's Court (SPC) , is also believed to be the first grand justice in the country charged with graft.
During yesterday's trial at the Intermediate People's Court in Langfang of North China's Hebei province, Huang was accused of abuse of power and taking bribes of more than 3.9 million yuan ($571,000) from five people, including a Guangdong lawyer named Chen Zhuolun, from 2005 to 2008.
In turn, Huang helped the five gain illegal interests, the indictment said.
In addition, Huang, together with others, also embezzled more than 3 million yuan from the Intermediate People's Court of Zhanjiang in South China's Guangdong province in 2007, when Huang was president of the court. Huang took 1.2 million yuan from it, according to the indictment.
No verdict was reached.
The top court would not comment on the trial yesterday.
Related readings:

 Top court official headed to trial


 Top ex-judge charged with taking 4-million-yuan bribe


 Anti-corruption leader says problem worsening


 China tightens corruption supervision


 Family reporting regulation to stem corruption
The Party's central commission for discipline inspection started to investigate Huang in Oct 15, 2008, shocking the entire judicial system.
On Oct 28 the same year, the Standing Committee of the National People's Congress, the country's top legislature, decided to remove Huang from the position of the SPC's vice-president.
It was reported that Huang was taken away by disciplinary inspectors in early October 2008 and had not returned home since.
His family said Huang had been assisting in the investigation of a top official at the high court of Guangdong province for illegal activities in connection with the auction of a piece of property.
On Aug 21 last year, Huang was deprived of his Party membership and his case was sent to the Supreme People's Procuratorate (SPP) in October.
It was also reported that four other division-level officials from the top court are also involved in Huang's case and they are waiting for punishment from the Party or judicial authorities.
Huang, a native of Guangdong, once served as a senior judge of the provincial high court. As one of the country's best-educated judges, he was seen as a leading figure pushing China down the path toward a constitutional legal system when he was appointed deputy director of the country's top court in late 2002.
However, his expertise seems to have failed to prevent him from falling into the trap of money.
Judiciary staff in the country are constantly being accused of corruption and taking bribes in a wide array of cases related to lucrative real estate and other business deals.
According to a SPP report last year, more than 13,000 officials were convicted of taking bribes in 2008, among whom 2,620 were from the judicial system.