A former vice-president of the Supreme People's Court (SPC) will probably stand on trial by March on charges of bribery, according to media reports yesterday.
The 53-year-old Huang Songyou, the highest-ranking judge to be charged with corruption since the founding of the People's Republic of China, has been accused of accepting 4 million yuan ($586,000) in bribes, the Beijing-based China Business Journal reported.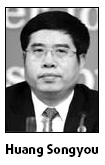 Huang will go on trial by early March at the latest when the country's top legislature, the National People's Congress, convenes its annual session, the paper said, citing unnamed sources familiar with the case.
The investigation against Huang is nearing its end and the prosecutors are expected to hand over the case to the court soon, according to the paper.
Officials at the supreme court and the supreme procuratorate could not be reached for comment yesterday.
Huang's case rocked China's court system because he had held the title of Grand Justice of the Second Rank, only two ranks below the country's top judge.
Related readings:

 Former city education chief expelled for corruption


 Corruption rising at grass-roots level, expert says


 Shenzhen officials face scrutiny to fight corruption


 China calls for int'l co-op in combating corruption

Huang has been held since Oct 15, 2008 after a probe by the Communist Party of China (CPC) Central Commission for Discipline Inspection (CCDI).
The CCDI had earlier said in a statement that Huang was found misusing his power to seek profits for concerned people and accepting a "huge amount" of bribes in return, and living a "corrupt" life.
Huang was deprived of his membership of the CPC and dismissed from the post as vice-president of the SPC later that month.
Huang is a native of South China's Guangdong province. He became vice-president of the SPC in 2002.
Four former officials at the supreme court also were involved in Huang's case, with one sentenced in September to a three-year imprisonment with a three-year reprieve for taking 100,000 yuan in bribes, the China Business Journal reported yesterday. The other three are still under detention.
After Huang's case came to light, the SPC launched an extensive anti-corruption campaign inside the court system nationwide, aiming to keep the judiciary untarnished and free of corruption.
Huang was allegedly charged with only one count of taking a bribe instead of three counts of corruption as previously speculated by other media, said the China Business Journal.
Huang is not involved in the case of Huang Guangyu, China's former wealthiest man who has been held by police since November 2008 on suspicion of commercial crimes, the newspaper reported.
Media had earlier speculated that Huang Songyou's case was related to Huang Guangyu's.