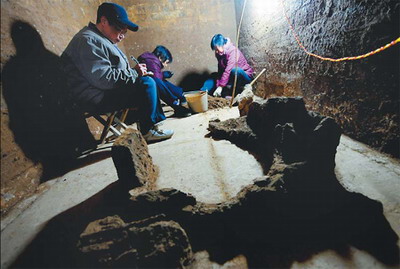 Archaeological staff work on the newly confirmed tomb of Cao Cao, legendary ruler of the Wei Kingdom in the Three Kingdoms period (AD 208 - 280), in Anyang county of Henan province on Wednesday. [Xinhua] 
Experts' calls come amid doubt over authenticity of Cao Cao's tomb
Experts have urged the authorities to conduct DNA tests on the alleged skull of Cao Cao, ruler of the Wei Kingdom in the Three Kingdoms period (AD 208 - 280), after discovery of the legendary king's tomb was confirmed in Henan province last weekend.
The calls come amid widespread suspicion over the tomb's authenticity.
Cao Cao's skull could be compared with the DNA sample of his son's bones that was discovered previously, experts said.
"DNA testing is a good choice, but finding the ancient king's real descendants today could be very hard," Li Meitian, an associate professor at the school of history of Beijing Normal University, was quoted by China News Service as saying on Friday.
Related readings:


 Tomb of legendary ruler unearthed


 Ancient relics unearthed in Jinan


 Old coins unearthed in Shaanxi


 'Loulan Beauty' unearthed, but still sleeps eternal slumber
As 28 bones of Cao Zhi, Cao Cao's son, had been discovered in 1951 and reserved in Xinxiang of Henan, the best choice could be to compare the DNA samples retrieved from the senior Cao's bones with that of his son's, Li said.
On Dec 27, officials of the State Administration of Cultural Heritage confirmed the discovery of Cao's mausoleum in Xigaoxue village, Anyang county in Henan.
The tomb was first discovered in December 2008 when workers at a kiln were digging for mud to make bricks.
Local authorities found stone tablets carrying inscriptions meaning "military ruler of Wei" - Cao's posthumous reference - from tomb raiders. The culprits claimed to have stolen the tablets from the tomb, said Sun Xinmin, director of the Henan provincial cultural relics administration.
During excavation work that lasted nearly a year, archaeologists recovered bones of three people: one male believed to be Cao Cao and two women. They also discovered more than 250 relics from the west-to-east, two-chamber tomb that covers an area of 740 sq m.
The latest announcement has sparked wide discussions and doubts over the authenticity of the ancient ruler's tomb.
"Historical records said that Cao Cao had built 72 tombs to thwart tomb raiders, so where are the other tombs?" Yuan Jixi, deputy director of the school of Chinese classics at Renmin University of China, was quoted by State broadcaster CCTV as saying on Thursday.
A number of archaeologists also question the authenticity of the tomb as it lacks Cao Cao's epitaph, which is believed to be the most important proof in identifying a tomb's owner.
A survey on information portal sina.com on Friday showed up to 60 percent of about 13,000 respondents believe the tomb does not belong to Cao Cao.
But experts in the excavation said that the 1,800-year-old tomb of Cao Cao was authentic at a briefing on Thursday.
"It's still unknown whether we can extract valid DNA samples before laboratory tests start," Sun Xinmin said.