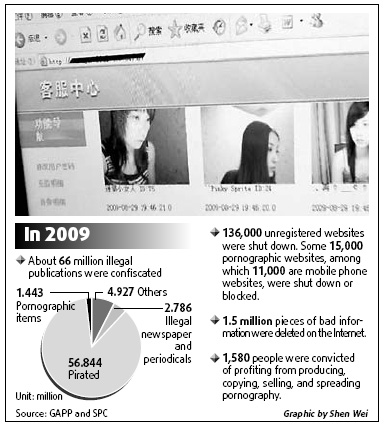 More than 15,000 pornographic websites, of which 11,000 were operated through mobile phones, were shut down last year, the General Administration of Press and Publication (GAPP) said yesterday.
Mao Xiamao, director of the GAPP department that fights illegal and banned publications, said that about 90 percent of pornographic websites in China use foreign servers, "mostly based in the United States".
Mao's department shut down another 136,000 non-registered websites and more than 1.5 million pieces of "bad information" were deleted from the Internet last year.
Related readings:


 78,000 yuan paid for reporting porn websites


 Gov't reward for reporting porn websites


 China nabs 5,400 people for online porn in 2009


 Top 10 crackdowns 2009


 Henan to set up anti-porn alert in karaoke bars
"The only purpose of our job is to solve problems," Mao said. "Of course, it is inevitable for some harmless content to get deleted in the process."
According to the Supreme People's Court (SPC), courts across the country heard 1,273 cases related to the publishing of pornographic content, with 1,580 people convicted for making profits out of producing and spreading pornography from January to October 2009. Those convicted face jail terms of up to 10 years.
"We tend to punish severely those who introduce pornographic content to juveniles," said Zhu Heqing, a judge from the SPC.
"We will continue to cooperate with the GAPP and the police to crack down on pornography this year," he added.
Zhu said the SPC is working on a more detailed legal explanation on the penalty for spreading pornographic information through mobile devices, and the definition of "pornography".