Editor's note: Internet porn, drunk driving, human trafficking, someone wandering around the neighborhoods in pajamas...The Chinese government has good reason to keep itself busy all year long. Here are the year's top ten crackdowns, some are timely, some are belated and some are disputable, but all have had an impact on our daily lives. [The Top 10 Everything of 2009]
1. Chongqing triad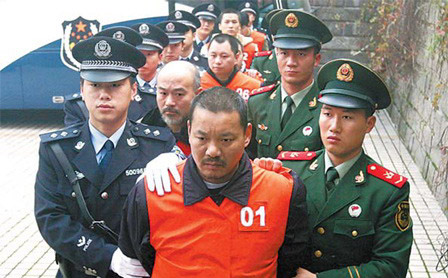 Police escort suspected gangsters into court before an organized crime trial in Chongqing Dec 1, 2009. [China Daily]
On the morning of October 16, Chongqing Party secretary Bo Xilai told the public for the first time about what set off the "anti-mobster" storm in Chongqing over the past year. He said: "We didn't strike out against mobsters on our own initiative, it was they who forced us to take steps."
The city started a massive crackdown on organized crime in June, exposing deep ties between police and criminals. A spokesman for the municipal procuratorate said at the time police had arrested 700 in connection with gang-related crimes in Chongqing in the year till November.
Related readings:


 Gang leader executed in SW China


 One-time policeman stands trial for leading gang


 Police violated lawyer's rights: Group


 Money-laundering gang trial opens in SW China


 Appeal against death, jail term for gangsters rejected


 Gang leader gets 20 years in jail in SW China


 Gang boss goes on trial


 Five sentenced to death in S China gang trial 
2. Online porn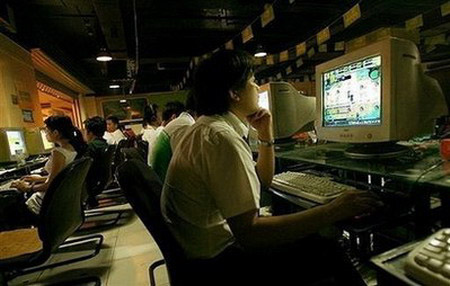 Chinese youths play online games at an Internet cafe in Beijing in 2007. China has extended its crackdown on porn to online games after shutting down 1,250 websites containing explicit pornographic content. [Agencies]
China began a high-profile crackdown on Internet porn in January, targeting popular online portals and major search engines such as Google and Baidu.
The government temporarily shut down access to Google in June after reports that it was providing links to pornographic content.
In the same month, the government ordered all new personal computers produced or sold in China after July 1 to carry "Green Dam-Youth Escort," filtering software designed to block pornographic content. The software was declared "not compulsory" by the government in August after it aroused huge controversy, as Internet users complained of privacy invasion and blocking information.
Related readings:


 3,500 suspects detained in crackdown on online porn


 Online porn tip-offs surge as China offers cash rewards


 China softens stance on Green Dam filter

 Major Internet pornography syndicate dismantled


 Many kids checking out online porn sites


 Police crack down on porn sites with foreign proxies


 Govt steps up heat on Google


 New regulation restricts sex info on Internet
3. Drunk driving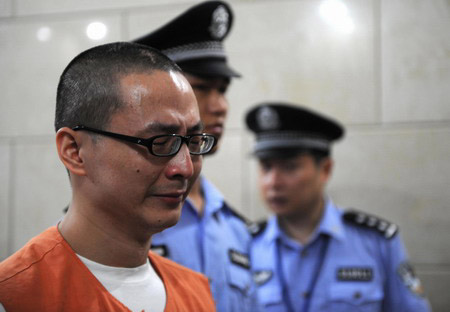 Sun Weiming,a driver convicted for causing a fatal car accident that killed four people last December, reacts after the court overturns his death penalty to life imprisonment. [Xinhua]
After a number of deadly road accidents caused by drunk driving, China launched a two-month "zero-tolerance" campaign on August 15.
Drunk drivers caught, had their licenses suspended for three or six months and, in serious cases, the driver detained for 15 days. If a drunk driver was caught twice within one year, his or her license was revoked for two to five years.
Here are some of the dreadful accidents caused by drink drivers this year: A motorist in Heilongjiang Province killed two people and injured 23 while driving under the influence of alcohol on August 5. A car careened out of control on a busy Nanjing street, killing five people, including a seven-month pregnant woman on June 30. On Aug 4, a drunk driver in Hangzhou killed a 16-year-old girl. Two days later, another drunk driver in Shanghai killed a four-year-old boy and injured three others.
Related readings:


 Nation tightens crackdown on drunken driving


 Drink driver gets life sentence for killing five


 Drunk driver admits killing two in NE China


 China reverses death penalty in drunk driving case


 Police catch 6,094 drunk drivers in 2 days


 Drunk driving claims 97 lives in Beijing in H1


 Drunks don't cause accidents; they kill people
4. Mobile porn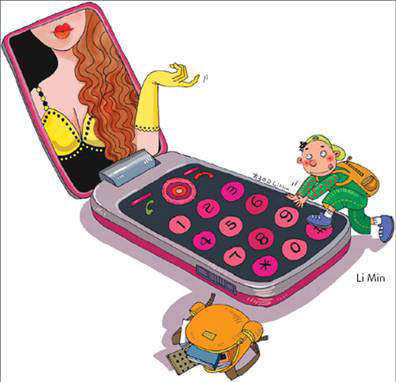 China had just got Internet porn under control, and then the country had to deal with WAP porn sites.
On Dec 8, nine government departments, including the Ministry of Industry and Information Technology, General Administration of Press and Publication, and State Council Information Office launched a crackdown on cell phone porn. The campaign will continue until May.
Related readings:


 WAP phones present challenge in war on porn


 China targets porn on WAP websites


 China Mobile moves to fight porn criticism


 Father takes on rising cell porn

5. Soccer scandals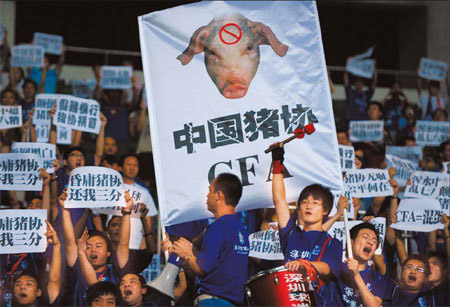 In this undated photo, fans of Chinese Super League (CSL) club Shenzhen raise a banner (center) reading "Chinese Pig Association" during a match as a way to attack the Chinese Football Association (CFA). [file/China Daily] 
After World Cup failure in 2002, Chinese football was supposed to disappear from the public eye. However, it returned for all the wrong reasons. The recent exposure of illegal gambling and match-fixing in China's top professional football league shocked tens of millions of fans.
The Ministry of Public Security announced in November that a number of former players, soccer officials and club officials had been detained for match-fixing and gambling in Chinese soccer.
"China's football is critically ill. The roots must be pulled up along with the grass," quoted Xinhua News Agency in a report.
Related readings:


 Soccer betting targeted in China


 Match-fixing comes to light in nationwide crackdown


 Police detain at least 4 in soccer gambling


 China soccer match-fixing probe nets 3 execs


 Former club official: Bribery rampant in leagues


 Interpol-wanted former player proves linchpin in match-fixing


 CFA staff probed for soccer scandals
6. File-sharing websites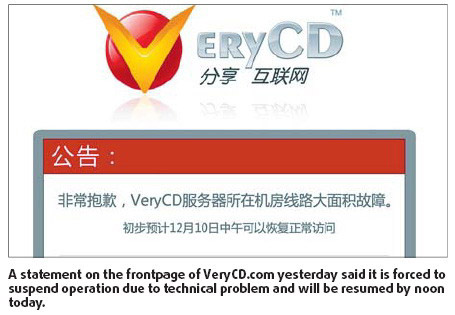 Movie fans were left stunned when they visited popular websites that offer free entertainment downloads only to find they had been closed down by regulators after China ramped up its battle against copyright infringement.
The move left millions of Chinese users disappointed after they checked out their favorite BitTorrent (BT) websites.
As long as websites don't resolve copyright problems, they won't be allowed to reopen, said an official with the online video and audio program department under the State Administration of Radio, Film and Television.
Related readings:


 BitTorrent sites down but not out

 More downloading websites going down


 BT sites inaccessible, netizens distressed
7. Human trafficking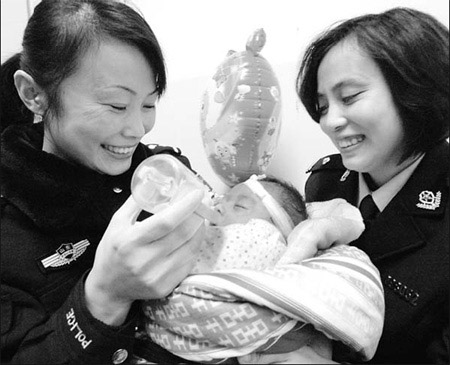 Police of Shanye county in Shandong province feed an infant who was rescued from kidnappers earlier in December. Efforts are being made to reduce cross-border human trafficking. [China Daily]
China has been faced with more organized and more professional cross-border human trafficking crimes in recent years. Child trafficking within China has penetrated almost all provinces.
In the six-month special anti-trafficking operation this year leading up to mid-October, Chinese police cracked 1,717 cases, rescuing more than 6,000 women and children.
Related readings:


 China joins UN fight against human trafficking


 Smashing the snakeheads


 Children without a way home


 Kids abducted, parents march on the street


 Parents of missing children accuse govt of negligence


 Crackdown follows rise in people smuggling
8. Pajamas wearing in public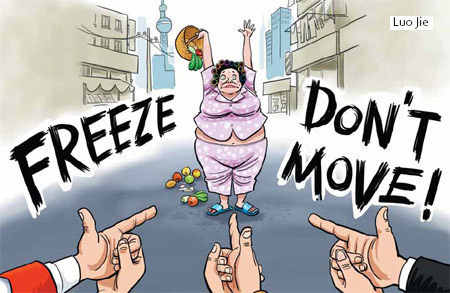 Nowhere else in China will you find residents wandering around their neighborhoods in distinctive pajamas as in Shanghai. The local government launched a controversial city-wide campaign to stop local residents from wearing their pajamas in public.
The "No Pajamas in Public Be Civilized" campaign is part of its efforts to present Shanghai as "an international metropolis" and show a "civilized" face of the city to foreign visitors, when it hosts the World Expo next May.
Related readings:


 In defense of pajamas


 What's wrong with a person in pajamas?
  
9. Celebrity endorsements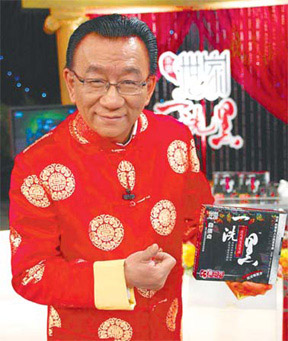 Hou Yaohua promotes shampoo in a TV show. [File] 
In China, it is quite common to find celebrities acting in misleading commercials and bragging about the magic effects of certain products.
Following a series of scandals involving products that have killed or poisoned consumers, China's new food safety law, which came into effect on June 1, stipulates that celebrities should be held responsible for the substandard food products they promote in commercials.
But there is no law regulating liabilities in other products, including medicines.
Related readings:

 CCTV host says sorry for fake ads


 Crosstalk star 'faked' illnesses in commericals


 Celebrity row is 'aiding food safety'


 Official: False food endorsement may leave stars bankrupt
10. Phone scams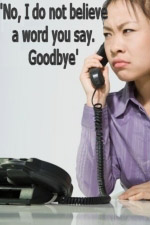 [chinaeconomicreview.com]
The public security ministry launched a four-month campaign starting June 12 after fraud cases through phone calls and text messages increased in recent years across the country.
Criminals often hook their victims by claiming to be from banks or the police, tricking victims into calling fake numbers and giving their account details. The thieves will also cheat the victims by telling them they have won prizes or even fake the kidnapping of a family members.
Related readings:


 Phone fraud to rise as year ends


 Mainland police nab 10 Taiwan suspects for swindling


 Police cooperate to disconnect phone frauds


 Beijing nets 601 suspects over phone scam