CHONGQING: A Beijing lawyer for a suspected mafia-style gang boss was jailed in a high-profile trial on Friday, triggering strong reactions among lawyers.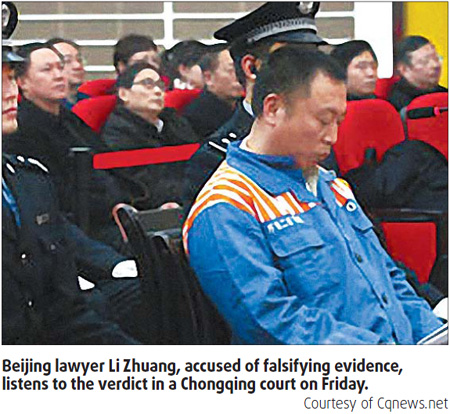 Li Zhuang received a sentence of two and a half years for fabricating evidence and interfering with witness testimonies while defending Gong Gangmo, the Chongqing Jiangbei district court ruled.
The court said Li had instructed Gong to falsely claim that police tortured him for confessions, directed another lawyer to bribe police and incited Gong's wife and his employees to give false testimonies.
Related readings:


 Ringleader duo stands trial in Chongqing


 New gang trials kick off in Chongqing


 Chongqing official jailed 20 yrs for gang crime


 Chongqing dragnet claims new mob boss
Gong and 34 alleged underlings were accused of organized crime offenses on Nov 20. Gong's trial is ongoing.
Li, 48, is expected to appeal and he said that "even if I don't appeal, 160,000 lawyers in China will do that for me".
Li's sentence amid scores of ongoing trials in Chongqing over the municipality's alleged mafia-style gangs continued to fuel controversy over legal issues.
"Fundamental problems were found during the proceedings. The case will bring a huge impact on our legal system," Professor He Bing from the China University of Political Science and Law told China Daily.
He pointed out that the 46-year-old Gong was a key witness who even reiterated Li's misconduct on TV and should not have been absent from the lawyer's trial.
Similarly, the "rushed proceedings" by local authorities, which took less than a month from the time Li was detained to that of his conviction, is reason for challenge.
Local forensic agencies had also authenticated that "Gong's wrists showed bruise and abrasion by blunt instrument" - a report the court judged not solid to prove that police had tortured Gong for confessions.
"Local media had elaborate reports detailing police investigation results even before the trial proceeded. That put much pressure on local judicial authorities," said Professor Lu Changlin, director of procedural law from the Chongqing-based Southwest Politics and Law University.
The conviction was double-edged, said Beijing lawyer Liu Jinhui, with King Capital Law firm.
"On the one hand, it alarms unethical lawyers they might be weeded out," Liu said.
"But on the other, a wrong conviction would undermine the power of lawyers that is already weak," he said.
While lawyers and legal experts from Beijing questioned the legitimacy of the trial, local ones found it just.
"Li's acts had gone beyond defense principles and boundaries of lawful defense tactics," said Professor Pan Jingui from Southwest Politics and Law University.
"While it is rare to see lawyers fabricating evidence, their interference in witness testimonies is not unusual," he said.
The country's Criminal Procedure Law Clause 306, which stipulates that lawyers can be jailed for fabricating evidence, was implemented in 1997.
So far, more than 500 lawyers have faced the charge, representing 80 percent of all criminal cases brought against attorneys, the Beijing-based Legal Daily reported.
"The trial will prompt lawyers to reflect on their practices and set the red line that must not be crossed," Pan said.
Chongqing's crackdown on organized crime continues as its public security bureau on Friday issued a wanted list of 18 suspected gangsters at large.