CHONGQING: Lurid tales of murder, gambling dens and organized crime are about to unfold again as a second batch of gang trials kick off in Chongqing.
Center stage will be four extraordinary mafia-style gangs that developed sophisticated influence: The gang of Chen Zhiyi, which faces the largest number of charges; Gong Gangmo's, which owned the most illegal guns; Wang Xingqiang's, the first to be accused of money laundering; and Wang Tianlun's, which reportedly gained political support for its market monopoly.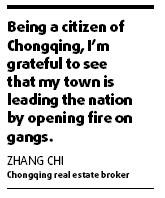 Besides Chen's gang, which ran widespread gambling dens, the rest took cover in legitimate businesses that directly impacted the livelihoods of local people.
"I appreciate the government's efforts to dig in deep and fight dangerous gangs hidden from public view," said 43-year-old real estate broker Zhang Chi.
"Being a citizen of Chongqing, I'm grateful to see that my town is leading the nation by opening fire on gangs," he said.
Locals told China Daily yesterday they continue to back the city's gang-crushing operation, which has already detained 2,900 suspects, and they believe the business environment and social stability are improving.
The four gangs include:
On trial today in Chongqing No 2 intermediate people's court in Wanzhou district is the 26-member gang under the leadership of Chen Zhiyi.
The gang allegedly murdered more victims than any other gang and is facing 22 charges. The other three gangs face an average of less than 10.
Related readings:


 'Mafia boss in uniform' on trial for abuse of power


 'Gang protectors' to stand trial


 31 on trial for gang connections


 Trial of 31 opens in Chongqing on organized crime charges
According to the prosecution, the gang killed three people and injured four in order to entrench their gambling houses in classy hotels - a typical example of the trend for organized gangs to be "fed by gambling and protecting businesses in return".
Though Chinese law stringently forbids possession of guns, the gang of Gong Gangmo allegedly owned 15 guns, including three submachine guns, and used a high-tech targeting device when it gunned down a victim in June.
Reports said Gong was once known as a "genius" when serving as a sales manager of a motorcycle manufacturer.
Ringleader Wang Tianlun, 43, approached city government officials in 2003 and gained support for his integrated hog slaughtering and processing project, as part of the city's food safety program, and later developed a monopoly in the market, according to an Economic Observer report.
Gang boss Wang Xinqiang also penetrated multiple businesses including the transport of construction waste, river sand and gravel.
His gang is the first to be accused of money laundering.
The city is also waiting for a third batch of trials to start, which will feature arrested billionaires and suspected mafia-style gang leaders Chen Mingliang and Yue Cun, who formerly had seats in legislative and political consultative bodies.