Buddhist monk Shi Daoxin's daily routine is not about chanting scriptures, meditating or temple ceremonies - rather, he spends his time listening to different categories of music, updating his blog, exchanging messages and emails with fans, and granting interviews in addition to working on his music.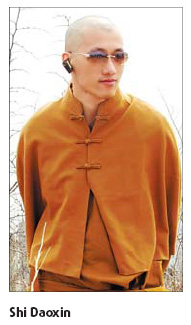 A self-claimed "art monk", 28-year-old Shi shot to fame in 2008 for his strong resemblance to Hong Kong actor and singer Nicholas Tse. Then controversy followed for his unconventional way of "disseminating Buddhist wisdom and culture through artistic forms".
On the one hand, he has a huge crowd of growing fans, praising and downloading his songs; and on the other, a substantial number of people who question the true motivation of a monk active in the secular entertainment world.
A monk since 14, Shi said he has always been thinking about how Buddhism could keep up with the times.
According to Shi, he was the deputy abbot of Donglin Temple in Lushan Mountain before setting off for Beijing four years ago. He set up his own Buddhist website and studio, and also helped organize two sessions of Buddhism summer camps in 2007 and 2008, which drew more than 200 students.
Now, he is the first monk to use multimedia to take Buddhism to a wider audience. To date, he has released one album and two singles. A third single is on the way, plus an "inspirational" autobiography and a documentary marking the 130th anniversary of the birth of Master Hong Yi (1880-1942), a Buddhist monk, artist, art teacher and musician. He is also planning a speaking tour of colleges around the country.
Most of his previous songs are what he describes as the "modern and popular version of traditional Buddhist chanting", but now, he is considering a switch in style.
He said he will try something less religious, and easier-to-understand lyrics. He does not think this is a departure from Buddhism; instead, it is a better way to "call forth the busy urban dwellers' reminiscences of childhood and allay their anxiety and restlessness".
But skepticism abounds, especially online. Many accuse him of chasing personal fame in the guise of Buddhism; some even dismiss him as a disgrace to the religion.
A monk at Donglin Temple, who did not want to be named, told China Daily: "If one does this solely in the spirit of promoting Buddhism, I cannot say it is wrong; but we don't advocate it, because after all, a monk is a monk."
Liu Jiawei, a sina.com blogger, has written a series of articles describing Shi's attempts at stardom and the high fees he charges for performances.
In the phone interview with China Daily, Shi did not answer the charges directly. He said: "At least half of my fellow monks approve and even admire my efforts, although they don't publicly admit it, because I have done something they want to do, but dare not."
Shi now lives in modest accommodation in Beijing provided by a friend, and his daily expenses are covered by his secular disciples nationwide.
Given his tight schedule, Shi said he has no time and energy for regular scripture chanting and meditation. Asked whether this will hinder his progress as a Buddhist monk, he answered in the negative.
"I gain even more from the things I'm busy with each day more than merely sitting in meditation.
"I encourage more of my fellow monks to step out of the secluded temples and do more to promote Buddhism by enduring the hardships of travel."