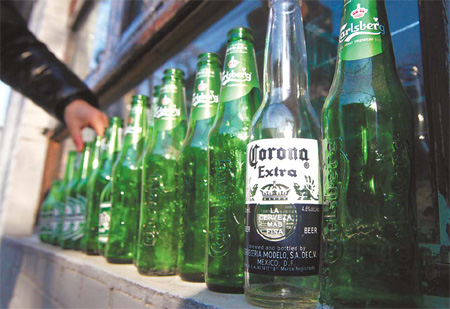 Bottles of Corona and Carlsberg are lined in the window of a bar in Beijing. Enforcement officials recently broke up a gang selling fake liquor and warned that counterfeit beers could pose a health risk. [China Daily]
Beer drinkers warned they may get more than they ordered at the bar
Fake "foreign" beers sold in some Beijing bars could cause sickness because of insanitary conditions in the brewing process, according to enforcement officers with the bureau of quality supervision in Chaoyang district.
The area is home to Sanlitun - one of the most well known bar streets in the city - as well as many luxury hotels.
"These beers are produced in small workshops with no disinfection process," said Wei Jinsheng, head of the enforcement team.
"Customers in bars usually wouldn't check what they are drinking, which raises the chance of getting a disease."
In a recent raid on a rented house in Wuliqiao village, officers found four men making counterfeit beer that they hoped to pass off as Budweiser, Corona and Carlsberg.
The men were filling empty foreign beer bottles with Chinese beer and resealing them using a bottle-capping machine. Officers seized more than 10 boxes of adulterated beer.
They said Chaoyang is known as a base of fake beer makers.
In 2007, an adulterated beer production workshop raided in Chaoyang contained 7,000 boxes of phony foreign beer.
According to Wei, it is easy to pass off fake beer because many brands have a similar taste.
"Some people add water to light beers, such as Corona, which is quite popular among women in bars," he said.
Officers said fake foreign beers are sold to bars for around 7 or 8 yuan a bottle and sold on to customers for 30 to 40 yuan a bottle.
In 2009, the team handled about 15 cases related to the production of adulterated liquor, including beer, Chinese white wine and foreign wine.
"I believe some bar owners know they are adulterated," Wei said. "But since they are cheap, there is still big demand from the bars."
However, bar operators insisted they would not sell bogus beer.
A man who answered the phone at "The Club" said they "never sell adulterated beers".
"How can we do that? Our customers can tell when they taste our beers," he said.
And a woman at a bar in Sanlitun, called Boys and Girls, also said they would not sell counterfeit brews. She told METRO the bar had purchased beer from a place called "Dinglixin", before another woman took over the phone and said beers were "ordered directly from the manufacturer".
He Liang, customer service manager from Babyface, which operates one of the largest bar chains in Chaoyang and other parts of the city, estimated that about 100 bottles of foreign beers are sold every weekday in a single chain bar.
Before the Olympic Games, many adulterated beers were produced in Datun, Chaoyang district, according to the enforcement team. Now, the sites are scattered in the outskirts of Beijing.
Some bar owners say they are actually the victims of the producers of adulterated alcohol.
Chad Lager has been running a bar named FUBAR in Sanlitun for three years. He said the fake alcohol problems seem to run along the distribution chain and employees.
"Most of the bars do not try to make fake alcohols. At least the foreign bars I've dealt with. But sometimes an employee buys a bottle of fake Absolut, brings it to work and steals your bottle of real Absolut. Or, it could be delivery drivers or further down the chain," Lager said.
Garry Lu, director of Carlsberg China Marketing Team, remains optimistic about their anti-counterfeit system.
Related readings:

 A beer a day may raise risk of several cancers: study


 Taiwan Beer poised to take 1% of the mainland market


 SABMiller beer sales up in China

 Lhasa beer is now sold in US
"Our marketing representatives in Beijing do regular checks on bars' Carlsberg stock," Lu said. "We only found five cases of counterfeit beer in Beijing in 2009."
Wang Yuanyuan, a frequent bar-goer, told METRO drinkers may have difficulty telling the real thing from the counterfeit brews.
"Well, I cannot tell the brand from the taste," Wang said. "I don't think there is much difference between them. If I don't order a cocktail, I would accept any beer handed to me."
Zheng Tieqiu is another self-described "bar-worm".
"I cannot tell the beer brand by taste, that's why I choose to buy foreign wine instead of beers," Zheng said, adding that a substantial number of apparently foreign alcohol may not be genuine.