Poll finds 95 percent of people believe Web has adverse impact
The majority of people think the authorities should implement an Internet content rating system, with 95 percent of them believing the Internet has adverse impacts on children, the latest online survey shows.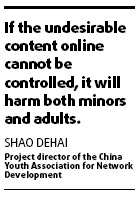 As many as 72 percent of the 1,718 people polled support Internet content ratings, while 11 percent oppose the idea, as China Youth Daily yesterday released the results of the survey jointly conducted by the newspaper and sohu.com.
Merely 0.9 percent of people think the Internet has no adverse impact on children.
Related readings:


 Online games may face rating system


 Is the Internet re@lly a danger to children?


 China not alone in internet regulation


 China establishes standard framework for "the internet of things"

China has the world's largest online population, with 338 million people as of last June, and 33 percent are under 20 years old, according to the official China Internet Network Information Center.
A growing number of Chinese parents fear their children who spend more time in the cyber world will become addicted to the Internet. Thousands of children and young adults are undergoing treatment for Internet addiction at more than 300 rehabilitation schools, camps and clinics nationwide.
Since last year, more people have urged the central government to take steps to protect young Internet users against undesirable online content. The authorities have since launched a crackdown on Internet and mobile phone porn.
Internet content ratings came under the spotlight after the Ministry of Industry and Information Technology began to solicit public ideas on a draft regulation for communication network security last August. The draft stipulated websites should be classified into five categories according to their significance to national and social development.

"I hope the government could establish a rating system to help children like my nine-year-old daughter use the Internet properly," Hu Xinhe, a citizen from Qianjiang, Hubei province, was quoted by China Youth Daily.
Hu allowed his daughter to spend one hour online every week since the little girl began to use the Internet last year, but he felt anxious because he cannot watch her around the clock as the girl's curiosity increases as she grows.
Like Hu, 44 percent of respondents think Internet content ratings can effectively protect children, but 16 percent do not think so, the survey found.
"If the undesirable content online cannot be controlled, it will harm both minors and adults," Shao Dehai, project director of the China Youth Association for Network Development, was quoted as saying in the report
Despite the strong support, a rating system has not yet come into being, for which 57 percent of those polled think "technical difficulties" is the main reason, the survey showed.
"It's very difficult to define a standard for the ratings because website managers are unable to know what content their hundreds of millions of users will upload to their websites," the report quoted Hu Yong, a professor of communication at Peking University.
Meanwhile, as many as 44 percent of people surveyed are concerned Internet ratings will restrict freedom of speech, with 59 percent hoping that authorities can ensure children be kept far from undesirable online content.
China Daily