SHANGHAI: Four months ahead of the World Expo, Shanghai has become the second Chinese city to adopt security checks at subway stations, causing mixed reactions from local commuters.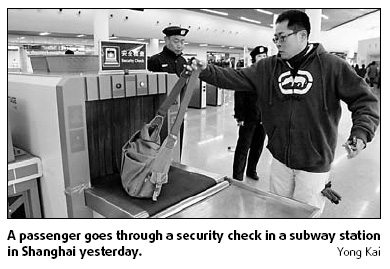 Beginning yesterday, security staff at 31 Shanghai subway stations, with 60 X-ray scanners, began to check passengers to ensure underground traffic safety.
By the end of March, all subway stations in Shanghai will be equipped with X-ray equipment. The number of inspectors will be raised to 6,000 from 2,000, local government officials said.
Related readings:


 Shanghai subway resumes operation after collision


 Subway line 7 begins trial operation in Shanghai

 Shanghai subway to be world's longest by 2010

Police said passengers who refuse to undergo security checks and cause serious consequences could face detention of five to 10 days for disturbing public order, with a fine of up to 500 yuan ($73).
The tightened security measure is the same as what Beijing did before the 2008 Olympic Games.
Beijing police figures show that from last January to August, about 25,530 dangerous objects were found during subway security checks.
"We search for dangerous articles, including knives, guns, ammunition, explosives, and flammable, radioactive and toxic materials," a spokesman surnamed Mao, at the Century Avenue station in Shanghai's Pudong district, said yesterday.
A female passenger stopped by Mao said that she recognizes the necessity of the strict security checks.
"Who does not want a safer environment? And checks take just a few seconds," she said.
However, inspections in other stations equipped with scanners are not always equally strict. From 8:20 am to 8:25 am yesterday, only two passengers were stopped to have their luggage scanned at a main entrance to the People's Square station, the busiest station in Shanghai.
"But it doesn't mean that we are standing by and doing nothing," said an inspector who asked to be anonymous.
"We are observing passengers' luggage and seeing if there is anything suspicious."