Yu Jianrong, a researcher with the CASS, said many church properties were closed down during the "cultural revolution". But it was during this 10 years of turmoil that religion began to spread rapidly, with many house churches springing up in Wenzhou, Zhejiang.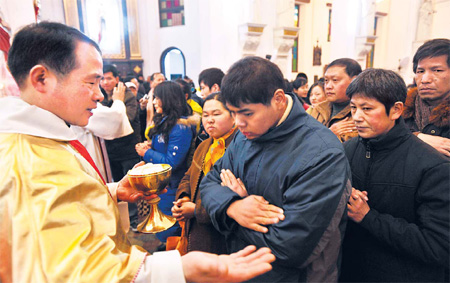 Christians in Wuhan, capital of Hubei province, go to mass on Christmas Eve. [Zhou Cha/China Daily]
"It has to do with the nature of religion. The more pressure there is on a religion, the more prosperous it can be," he said, adding that more Christians than ever before are now willing to talk openly about their beliefs in public. "I have seen many village houses in Henan province and in other places that have couplets about God pasted on their doors. I would not have imagined people being so open decades ago."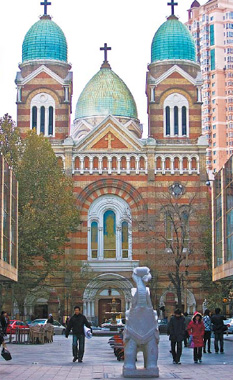 A church in Tianjin. [Jonah. M Kessel/China Daily]
A 75-year-old Christian in Beijing surnamed Wang, who was baptized as a baby, told China Daily: "There was a time when we had to pray at home, secretly and silently, because we feared we would be punished. But we can now enjoy religious freedom, and more and more people are free to speak out about their faith."
The CASS report on the number of Christians, which has been presented to the central government, was the first ever to feature those who attend house churches, said Yu.
The previous official figure was just 16 million Christians, which included only those people who attend or are affiliated with the Three-Self Patriotic Movement of Protestant Churches in China, the State-approved church, according to the official website of the Chinese Protestant Church.
Set up in 1954, the Three-Self Patriotic Movement - self-support, self-governance and self-propagation - was closed for 13 years before its restoration by the government in 1979.
Affiliated churches must generate their own funds. However, local governments are starting to lend more support, said parishioners.
Dai Yafang, 56, who works at Xitang Protestant Church with her husband, said the Jiashan county authorities sold the land from the new construction despite another company offering more than double the asking price.
"The land transfer fee was 180,000 yuan and a company offered to pay 600,000 yuan for it, but the government still sold the land to the church," she said.
The new church is also sited in a "prestigious" location, said 50-year-old Xitang resident Ling Yuming. "It used to be the people's square in town where all the meetings and events were held."
He added: "When the church was closed, people used to gather in the home of an elderly woman surnamed Tang. There were so many people crowded in a little room that I couldn't even see Tang as she read from the Bible. We all knew that was a Protestant gathering but no one talked about it. Nowadays people are much more willing to talk about religious beliefs. It is a part of our identity."
However, despite the increased freedom, other experts said that even today some churches are reluctant to hold promotions in public to raise money and instead rely on private donations.
Related readings:


 Bringing faith into the open in China


 Foreign convicts treated to festive performance


 Factories broaden horizons after spending freeze


 'They're just too much hard work for me'- an expat

 'There's nothing like a traditional British lunch'


 'We'll be giving our Chinese pals a genuine seasonal experience'


 The vital ingredient to a happy Christmas is happy children'

 Merry Christmas, Santa Claus is in town!

 Single people's Christmas crisis

The CASS study found the greatest concentration of house churches in three areas: the coastal provinces of Zhejiang and Fujian, the Huaihe River reaches of Anhui province, Henan in Central China, and Yunnan province in the southwest.
"There are also many Christians in the provinces of Shaanxi, Hebei and Shandong. The numbers in Shandong have risen sharply because of the work of missionaries arriving from South Korea," he said, adding that the overall boom in Christianity came during two periods: between 1979 and 1985, and from the mid-1990s to now.
"We cannot give the exact reasons for the fast growth. It may have to do with the transformation of the society. But the latest trend is that more and more intellectuals in cities are joining house churches," he said.
In Beijing, last year saw more than 2,000 baptized at Xuanwumen Catholic Church in Beijing, an increase of about 15 percent on 2007, said church officials.
The 1,000-capacity Xuanwumen was even struggling to meet demand, according to Xiao Jianqiu. "We get more than 2,000 believers here on Christmas Eve," said the volunteer in her 50s, who added that the church is having to install large-screen televisions so more people can see the service.
Ying Mulan, vice-president of the Beijing Catholicism Committee, explained that younger generations were among the largest group taking up Christianity because "religious ideas contribute to social development, such as doing good for others".
A volunteer at the Shanghai Community Church, which stands in the grand French Concession and is the metropolis' biggest church, said its weekly youth group meetings now regularly attract more than 800 people, a sharp rise on 2002 when as few as 20 would attend.
On Wednesday, about 1,000 young parishioners packed out the church, one of the many closed during the "cultural revolution," for a Christmas carol concert. Among them was graphic designer Huang Wenjing, 24, who was baptized in 2007.
"At the beginning my parents thought I had gone crazy and burned my Bible and stole my computer. But I prayed for them to behave better, and eventually they started to respect my belief," she said. "I'm happy and proud to be a Christian.
"It's an honor to say it loudly that I'm a child of God. Discrimination and criticism is in the past, far away from us. When you stand out, you will find out actually there are so many brothers and sisters around you. We are a big family in Shanghai."
Huang's colleague, Wang Yanzhou, who also converted to the faith, said: "At first I laughed at her (Huang), because she always said things that sounded awkward. But she didn't feel embarrassed. She told all the colleagues about her religion proudly and always looked happy."
Jin Meidi, a preacher in her 60s, began working at the Moore Memorial Church in Shanghai in 1995 when only 20 people used to turn up for her Bible study group. Now there are 120, she said, two-thirds of whom are university students or new graduates.

A choir at a Christian church in Beijing. [Cui Hao/China Daily] 
"Young people have a high rate of acceptance of Christianity. Twenty years ago, all group members were elderly and migrant workers," said Jin, who converted to Christianity in 1985.
She has run home prayer gatherings for elderly people from more than two decades, but it took a while to win the support of local residents' committees.
"In the early years they (officials) didn't understand our purpose, but after years of charity work and caring for orphans, they were touched and have become very supportive over the past 10 years," she said.
The preacher said that she was a lot more confident displaying her faith in public and explained: "Every time I do good things - offering my seat to an old person on a bus, for example - and someone says thank you, I always tell them we should thank God. People often say 'thank God' very naturally and smile.
"We definitely enjoy a high degree of freedom for our religion now and our social status has been lifted these past decades. We receive respect from others."