Hong Huang is a celebrity with many faces. She is a publisher, a widely read blogger, the ex-wife of a renowned film director, the daughter of a diplomat who was also Chairman Mao Zedong's English teacher.
But the latest title she has been dubbed with is "the most humorous nail-house owner" because Hong refuses to move out of her half-century-old courtyard house.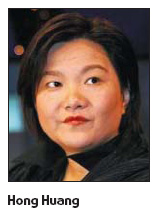 The Ministry of Foreign Affairs has claimed the house as State property and has asked her to move out.
Hong, 48, is the daughter of Zhang Hanzhi, a former senior diplomat and English expert, who died last year at 73.
The historical courtyard house, No 51 Shijia hutong in Beijing's Dongcheng district, became the residence of Hong's grandfather Zhang Shizhao, a famous democratic patriot, in 1959 by the arrangement of former premier Zhou Enlai.
Zhang Hanzhi and Hong's stepfather Qiao Guanhua, then former foreign minister, lived in the house after they got married in 1973.
The house was named a relic site in Dongcheng in 1984.
Hong's plea of compensation is based on maintenance costs over the past 30 years, which pales to her pleas for answers to the government's takeover request.
"How did my grandfather's home become the property of the Foreign Ministry after my mother married Qiao Guanhua? It might be not smart to take a live-in son-in-law," she joked.
"Many people believe the house belongs to my grandfather. But Chairman Mao Zedong gave this house to him without a ownership certificate at that time," she said.
The Ministry of Foreign Affairs has asked Hong to move out of the house, offering a 120 sq-m apartment as compensation.
"A 120-sq-m apartment is not big enough. We need a place big enough to hold 50 years of crap in the old house," Hong said.
She also argued that the Foreign Ministry never offered them any heating or home-repair services, after Qiao stepped down in the Cultural Revolution (1966-76).
Hong's lawyer has sent letters to the ministry since February. There was no response until the arrival of the court notice.
"You can't help but feel sentimental when leaving a home half a century old," said Hong.
Hong said in her blog that the court gave her two months to find more evidence of ownership.
Hong wrote ten messages in court about the case on her blog by mobile phone on Tuesday. The first message, uploaded at 8 am, has already received hundreds of comments.
The public had its first peek inside No 51 Shijia hutong when it was used in a feminism movie directed by Hong in 2006, which included both Hong and her mother as actors.
Hong's ex-husband is Chen Kaige, the well-known film director whose works include "Farewell My Concubine." The two were divorced in 1993.