When Penny Thomas was diagnosed with Parkinson's disease in 2001, she promised herself she would never allow the illness to take over her life. And for five years, she was successful.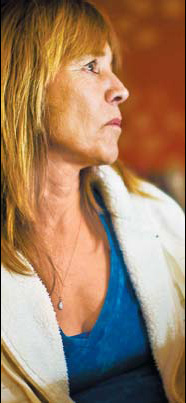 Penny Thomas, 56, who underwent stem cell treatment in Beijing in 2006, chats with doctors after returning to the Chinese capital this month. [Jonah M. Kessel/China Daily]
But despite her brave battle against the degenerative disorder, which attacks the body's central nervous system, the 56-year-old American eventually began to see her world crumbling around her.
Just getting out of bed became a struggle, and she was depending more and more on friends and relatives for help. "If I wanted to brush my hair or dress myself, it would take over an hour," said the former park ranger from Denver, Colorado.
She cancelled her driving license because she felt it was no longer safe for her to be on the roads, and she abandoned her dreams of running her own horse training facility.
It was at this low point she began researching stem cell treatments.
She had expended all other avenues of treatment bar trying the various medications. "I tried everything I could without going onto the medications because my doctor and I knew medications only work for so long before they start working against you," she said.
In March, United States President Barack Obama overturned an almost 8-year ban imposed by his predecessor George W. Bush on government funding for stem cells studies. However, the nation has not approved the use of stem cells on humans, which means patients must travel to countries without a ban on the treatment.
One of these countries is China, where medical professionals are exploiting a legal loophole to carry out the controversial practice that experts have warned has still not been proven effective or safe.
After discussing the topic with a friend and reading dozens of testimonials on stem cell treatments, Thomas booked a flight to Beijing.
"I thought to myself, 'I'm dying slowly here, so if I am going to put myself out on the limb I'm either going to do it or not'. Even if I died, at least I died trying," said Thomas, a divorcee with a 21-year-old daughter.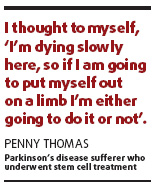 On May 13, 2006, at Tiantan Puhua Hospital she began a
5-week inpatient treatment that involved stem cells cultivated from donated retinas. It cost her more than 130,000 yuan ($19,000).
Adult stem cells are sourced from adults - often the patient's own bone marrow - and many specialists in China have switched to using these rather than following the highly controversial practice of using cells from human embryos.
Thomas said the treatment was effective almost immediately. She began noticing small changes in her movements as early as the next day, and when she returned home to the United States two months later, she said her condition continued to improve.
"The first thing I did when I got home was reapply for my driving license. I passed with flying colors," she said.
Thomas is just one of the hundreds of "stem cell tourists" - foreigners from around the globe who have traveled to China to receive the treatment. But the growing trend will be curbed with fresh regulations, according to Ministry of Health spokesman Deng Haihua, who said that practice is currently being practiced in a medical gray area.
"The kind of stem cell treatment (received by Thomas) is not legal in China. Any cutting-edge medical technology needs official approval before it can be put into clinical use. China has regulations on that, but they do not cover the kind of practice," said Deng.
The ministry released new rules in May that require all Chinese hospitals offering stem cell treatments to prove the practice is "effective" before advertising the service. The treatments were also reclassified as "type 3" medical procedures, which need government approval.
Stem cells have been used in China to treat conditions ranging in severity from spinal chord injuries resulting in paralysis to cosmetic facial injections.
"Only adult stem cells derived from bone marrow and umbilical cords used to treat leukemia have proven safe and effective," said Qiu Renzong, one of the nation's leading bioethicists with the Chinese Academy of Social Sciences. "All others practiced in China, including those for cosmetic purposes, have not yet been proven safe and effective."
He said regulations are aimed at protecting patients from clinics that claim to cure disorders but use unverified treatments and ineffective stem cells.
Luc Noel, a doctor with the World Health Organization based in Switzerland, also warned there is no guarantee stem cell treatments are safe.
"Globally, regenerative medicine and stem cell therapies remain as pre-clinical and, in some cases, clinical research. Moving to human application would be a major step," said the coordinator of clinical procedures under the WHO's essential health technologies department. "Before this happens, more scientific data is required, which must undergo peer review and be made available to the international scientific community.