When Li Qiang opened a mysterious text message sent to his WAP-enabled cell phone in the early hours of the morning, what he saw shocked him to his core.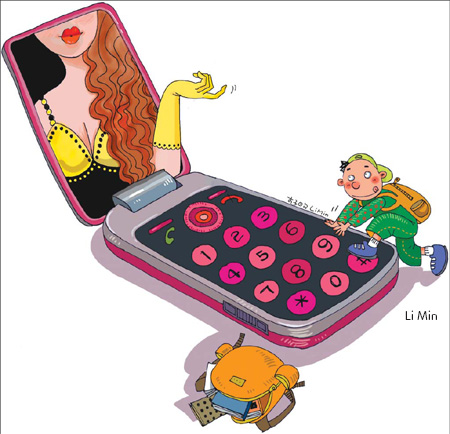 "It said, 'Come and have sex with a 19-year-old airline stewardess'. It was unsolicited porn sent directly to my cell phone at 1:28 am," the father of one told China Daily. "What if this was sent to a child's phone? What if my 16-year-old daughter had seen it?"
The text also contained a link to a website offering pornographic videos and images, he said. "It's shocking. I can't imagine what effect this would have on a young person's mind."

Li, 40, had only just bought his daughter an Internet-ready cell phone when he received the porn message on his own phone last March. He immediately called China Mobile, the network operator, to disable her phone's Web-browsing function.
"I will keep the restriction until she is 18," said the concerned parent. "This is a potential nightmare for parents, not to mention schools, where pornographic contact can easily be taken unnoticed into classrooms by students with portable Internet devices.
"I have even heard some parents plan to keep the Web restriction on their child's cell phone until they reach 22."
Li could be accused of overreacting in some Western societies where porn is only restricted to those under 21, but in China, a country that has devoted millions of yuan and man-hours to clamping down on obscene content, the issue has become for many parents a passionate battle to protect the minds and morals of young people.
A report by the China Internet Network Information Center in October showed there are now 181 million mobile WAP - wireless application protocol - users nationwide, with around a quarter aged 10 to 19.
"Most people probably use their phones to communicate and to check out healthy Web content but I am afraid vulgar material could be pushed inadvertently onto youngsters. You don't have to search for porn anymore, now it is delivered to you whether you want it or not," said Li.
As a researcher for the Chinese Academy of Sciences' institute of policy and management, Li used his obscene text experience to launch a six-month study into mobile porn and its influence on young people. However, he said that his findings failed to draw much attention.
After discovering 79 illegal WAP porn sites, he filed a complaint with the country's biggest networks, China Mobile, which resulted in the closure of 53 sites.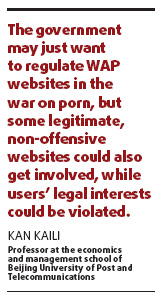 To prove his point about the dangers, Li cited a police report on Dec 14 of a 16-year-old boy in Sichuan province who allegedly raped and murdered a girl of 12 in September while attempting to recreate a scene from a porn film he watched on his mobile phone.
But Deng Xiquan, of the China Youth and Children's Research Association, said it was too easy to justify blocking WAP or online content by blaming porn or on-screen violence for juvenile offences.
"Mobile porn is never the only reason for such disturbing behavior," he said, when referring to the death in Sichuan. "Studies have found that the main cause of juvenile crime is usually a lack of proper family care or attention. Pornographic and violent content may help activate certain behavior but it is not the root cause, and young people who lack sound family support are usually more susceptible to such content."
The introduction of WAP technology has revolutionized the way people use mobile phones around the world, allowing them easy access to millions of websites at the touch of a button.
However, supervising the technology may prove the biggest challenge to those charged with leading China's war on porn.
On Dec 8, nine government departments, including the Ministry of Industry and Information Technology, General Administration of Press and Publication, and State Council Information Office launched a crackdown on cell phone porn, Xinhua News Agency reported.
Related readings:


 China to eliminate porn from mobile phones


 China vows tougher crackdown on mobile phone pornography


 Crackdown launched on cell phone porn

The campaign will last until May and also involves a new team set up by the National Office of Eliminating Pornography and Illegal Publications, headed by Liu Yunshan, who is also the head of the publicity department for the Communist Party of China Central Committee.
The sweep will be carried out in three steps. Between now and Spring Festival, which falls in February next year, officials will concentrate on finding and closing down illegal WAP sites; the second phase is to draw fresh legislation and build a clear supervision system, and the last two months will be spent integrating the various telecom networks into the system.
"The government is regulating mobile websites for a specific purpose of protecting young people. We will not allow mobile porn to poison the minds of our kids. They are China's future, so by protecting them we are protecting our country," said Huang Xiaoxin, director of the anti-WAP porn team.
Since starting work with the National Office in 1989, Huang has witnessed a steady evolution in the fight against obscene and illegal content, from graphic posters and novels for sale on streets to cassette tapes and compact discs.
"The digital era poses the greatest challenges to eliminating pornography as material can be easily copied and distributed with little trace," he told China Daily. "The Internet has been popular for many years but smart cell phones with Web-browsing functions have only recently hit China. We have just got Internet porn under control, now we must deal with the WAP porn sites. We need new technology and new policy to deal with this threat."
The National Office on Dec 15 publicly exposed eight major WAP porn operators, including an 18-year-old man in Guangdong province surnamed Chen who allegedly made 80,000 yuan ($12,000) from five porn sites.
Suspects in the eight cases, chosen from the dozens reported across the country, will face trial in the coming weeks, said Huang.
"We have no exact figure on the total number of porn websites available to WAP cell phones, but by releasing details on these eight cases it shows how serious we are about the crackdown," he said. "Website owners, advertisers and telecom networks will all be investigated for legal liability."
A hotline has been set up for people to report WAP porn sites, while the National Office is also offering rewards of 1,000 to 10,000 yuan for tip-offs.
Between Dec 4 and 13, the team received almost 1,300 valid reports via the hotline and 5,800 more online. "We get 600 calls a day, 10 times the usual number. We now have 11 people working 24 hours to answer calls," said Huang.
Despite the response, after releasing two reports on cell phone porn for the Chinese Academy of Sciences, researcher Li is not convinced the crackdown will be enough.
"Shutting down websites will not solve the problem. New WAP porn sites will always spring up after the government crackdown because telecom networks, websites, advertisers and service providers all profit from them," he said.
"The website owners and service providers who make and publish the porn are operating illegally and should be punished, but the networks, which always claim they have no way of knowing that a website contains pornographic content, actually help keep the porn business running.
"The networks are using a legal loophole. The WAP porn problem won't be solved unless the government breaks the relationship between networks and porn websites."
During his research, Li said he used three mobile phones connected through China Mobile, the largest networks, to browse porn websites for almost 100 hours. On his itemized bill, which totaled 505 yuan, it showed that around 85 percent was for download fees, while the rest was "shared" between the network and WAP sites.
"As the main beneficiary, networks should take the responsibility for not filtering content, even though filtering is not yet required by law," said Li.
But Kan Kaili, a professor at the economics and management school of Beijing University of Post and Telecommunications, disagreed and argued: "It would be unfair to blame the networks. They are just like the post office. How do they know what packages contain porn?
"The government may just want to regulate WAP websites in the war on porn, but some legitimate, non-offensive websites could also get involved, while users' legal interests could be violated."
Only with the help of networks will China wipe out obscene cell phone material, said Mao Xiaomao, an official with the National Office of Eliminating Pornography and Illegal Publications who this month led investigation teams to the headquarters of China Mobile, China Unicom and China Telecom.
Officials with the networks were unavailable for comment yesterday. However, Mao said China Mobile is planning to spend 100 million yuan on a new division to monitor websites for subscribers.
"It is impossible for the government to supervise all the content on WAP websites, only the networks have the technology to regulate their business and protect young users. It will cost a lot but it is well worth it," he said.