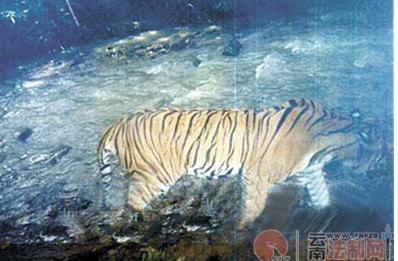 The  Indo-Chinese tiger shot by Kang Wannian is seen in this undated photo taken by an infrared camera. [ynfzb.cn]
Kang Wannian, a man who hunted and ate a rare Indo-Chinese tiger earlier this year, was sentenced to 12 years in prison and fined 100,000 yuan ($14,644). He was also ordered to compensate the state for an economic loss of 480,000 yuan ($70,295) by the local court in Mengla, in southwest China's Yunnan province on Monday, yunnan.cn reported today.
Kang Wannian and Gao Zuqiao were villagers from in Mengla. They happened to see a tiger while on their way to catch mussels in Xishuangbanna National Nature Reserve in Yunnan. Kang shot the tiger dead. The next day, the duo cut it into piece and shared the meat with other five villagers, the report said.
Gao and the five other villagers were also convicted of the crimes of illegal hunting, killing of endangered wildlife, and illegal possession of firearms. They were given prison sentences ranging from one to four years.
Kang defended himself saying he killed the tiger out of self-defense, and that he gave himself up for justice. The court rejected these arguments, saying that there was no need to carry a gun for catching mussels.