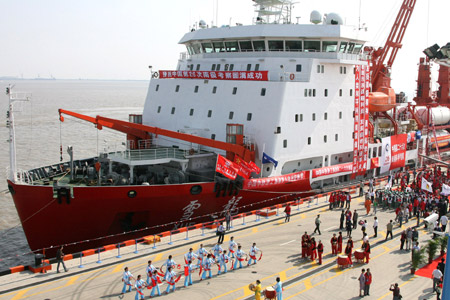 File photo of Icebreaker Xuelong, or "Snow Dragon" prepares to leave for China's 26th scientific expedition to the Antarctica, in Shanghai, on October 11, 2009. [Xinhua]
ABOARD XUELONG: China's 26th scientific expedition to Antarctica on Saturday used helicopters and snowcats to carts supplies to the country's Zhongshan Station.
Related readings:


 Xuelong begins ice-breaking visit to Taiwan


 Ice breaker Xuelong blocked during Antarctica expedition


 Xuelong returns in triumph


 Xuelong arrives at Zhongshan Station
The goods weighing hundreds of tons mainly included technical equipment, logistic and infrastructure support, and fuel.
"Snow Eagle," a Ka-32 helicopter from China's Antarctic exploration team and a Sakorsky S76 helicopter rented from Australia were used during the day when the weather was favorable. Two snowcats were used at night when the ice was denser and more solid.
So far, two containers and 280 tons of goods and fuel have been transported from the Xuelong to the station.
On October 11, the Xuelong left Shanghai with the exploration team for Antarctica.
Zhongshan Station, founded on February 26, 1989, is China's second station in Antarctica, following the Great Wall Station.