ABOARD XUELONG, Kaohsiung -- China's Antarctic exploration vessel arrived in Taiwan's Kaohsiung Port at 1:30 p.m. Wednesday.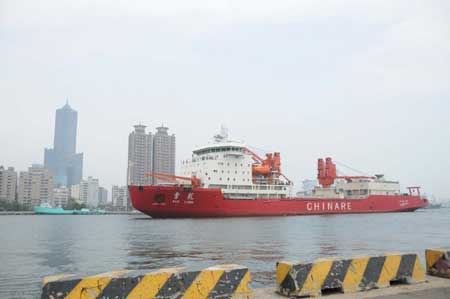 China's Antarctic exploration vessel, the Snow Dragon, or Xuelong in Chinese, arrives at the Kaohsiung Port in southeast China's Taiwan Province, on April 1, 2009. [Xinhua]
The Snow Dragon, or Xuelong in Chinese, is carrying 140 members of China's 25th Antarctic scientific expedition team. It is expected to return to Shanghai on April 10.
Related readings:


 Antarctic expedition arrives in Taiwan's Kaohsiung


 Ice breaker Xuelong blocked during Antarctica expedition


 Xuelong returns in triumph


 Xuelong arrives at Zhongshan Station
The ship left in October for a 173-day trip, the longest in China's polar expedition history. It also had the largest number of researchers on board.
Yang Huigen, head of the expedition team, said his team was asked to stop in Kaohsiung and have cross-Straits polar research exchanges.
The ship's visit to Taiwan, at the invitation of the "National Museum of Marine Biology and Aquarium," "National Sun Yat-sen University" and Cheng Shiu University, was "an ice-breaking journey" for cross-Straits polar scientific exchanges, Yang said.
The Snow Dragon and its crew will stay in Taiwan for four days. About 2,000 people will be allowed to visit the ship. All spaces have already been reserved. Members of the expedition team will also deliver speeches and share findings with scientists on the island.
Wang Wei-shean, curator of the "National Museum of Marine Biology and Aquarium," said the ship's visit could enhance people's attention of ecological protection.
The expedition team fulfilled the task of erecting a new research station at Dome Argus (Dome A), the pole's highest icecap, which is 4,093 meters above sea level.
The station will help expand their research space from the coastal area to the inland of Antarctica, according to Sun Zhihui, director of the State Oceanic Administration.
It is China's third station in Antarctica after the Changcheng Station and Zhongshan Station.
The ship left China's Zhongshan Station for home on March 9. It stopped in Australia's Port of Fremantle on March 22 to refuel.
China launched its first expedition to Antarctica in 1984.