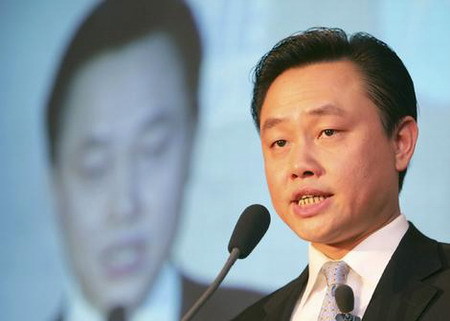 File photo of Huang Guangyu. [Agencies]
Huang Guangyu, once China's richest man and a home appliance tycoon, is likely to be charged with insider trading, which carries a maximum penalty of 10 years in jail.
Huang, 40, former chairman of Gome Electrical Appliances Holdings, was detained on Nov 24 last year on claims he manipulated share trading for two listed companies, Sanlian Commercial Co and Beijing Centergate Technologies Co.
The Beijing People's Procuratorate has twice sent Huang's case back to police asking for further investigation, Legal Evening News reported on Tuesday.
Related readings:


 Assets of former Gome exec frozen


 Huang case unlikely to hurt Gome biz: Analysts


 Gome shares dip as Hong Kong court freezes Huang's assets


 Gome back on track with refinancing deal


 Chairman says no plans to list GOME on the mainland
The first time the case was sent back, prosecutors asked for more "specific manipulating measures of insider trading".
The case was sent back a second time because of "insufficient evidence".
Unless a higher procuratorate permits a longer investigation, Huang will have to be prosecuted within a month and a half, the report quoted sources as saying.
Insider trading refers to illegal profits in stock and securities trading by using or giving away confidential insider information that has not yet been made public.
This allows the person to buy or sell a stock before news affects the price of the security.
Someone acting as an individual faces a maximum of 10 years in prison. Someone acting as a legal representative of a company faces at most five years in prison.
Huang's lawyer says that Huang should be treated as a legal representative of Gome group.
Huang, who founded Gome Electrial Appliances, is a Chinese billionaire. He ranked first last year on the Hurun Rich List, a ranking of the 1,000 richest individuals in China.
After he was arrested last year, his personal wealth started to shrink as the price of Gome's stock, of which he is the biggest shareholder, started to decline.
The Hong Kong High Court on Sept 9 extended an order to freeze $214 million of Huang's assets. Huang sank to 17th place on this year's Hurun Rich List, which was released last Tuesday.