Iranians vote in tight presidential run-off
(Agencies)
Updated: 2005-06-24 14:50
Iranians began voting on Friday in a presidential run-off that could end a fragile reform process and harden policy toward the West if moderate cleric Akbar Hashemi Rafsanjani loses to a hardline rival.
Voters queued as polling began in poor south Tehran, a stronghold of ultra-conservative Tehran mayor Mahmoud Ahmadinejad, who has won the support of the country's religious poor with promises to share out Iran's oil wealth more fairly.
"I will vote for Ahmadinejad because he wants to cut off the hands of those who are stealing the country's national wealth. He wants to fight poverty, fraud and discrimination," said Rahmatollah Izadpanah, 41, standing in line in south Tehran.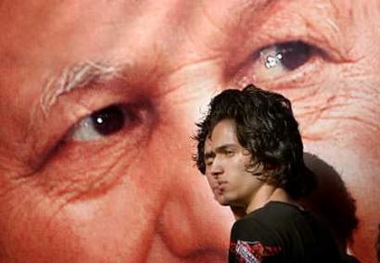 Two Iranian men walk past a campaign poster for presidential candidate Akbar Hashemi Rafsanjani in Tehran June 22, 2005.[Reuters]

Political analysts say the election result is too close to call, with the contest reflecting deep social divisions apparent in the Islamic Republic of 67 million people.

"It's a very close competition, but according to the information I have, I am ahead of the other candidate," Rafsanjani, 70, said after casting his vote.

"I intend to play a historic political role ... to stop the domination of extremism," he told reporters.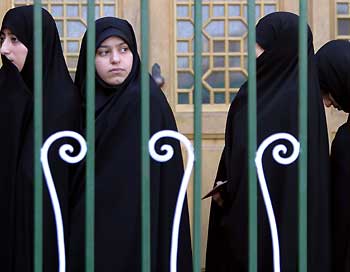 Iranian women wait to vote at a mosque in Qom, 120 km (75 miles) south of Tehran, June 24, 2005. Iranians began voting in a presidential run-off election on Friday with moderate cleric Akbar Hashemi Rafsanjani competing in a tight race against hardline rival Mahmoud Ahmadinejad. [Reuters]

Rafsanjani, bidding to regain the presidency he held from 1989 to 1997, has recast himself as a liberal with vows to extend the reforms of outgoing President Mohammad Khatami, who loosened Islamic social rules and pursued detente with the West.

Ahmadinejad, 48, a surprise contender in the run-off, says ties with Washington are not a priority. He is a staunch supporter of Supreme Leader Ayatollah Ali Khamenei, who has the final say in matters of state in Iran's system of clerical rule.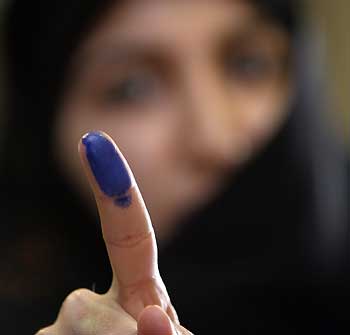 Iranian women wait to vote at a mosque in Qom, 120 km (75 miles) south of Tehran, June 24, 2005. [Reuters]

"The more people who participate in the election, the better it will be for the next president and for protecting Iran, and achieving our goals," said Khamenei, one of the first to cast his vote after polling stations opened at 9 a.m. (0430 GMT).

Washington has criticized the poll as unfair on grounds that unelected religious authorities blocked the vast majority of would-be candidates.

Many analysts say the U.S. criticism may have spurred turnout in last week's first round, helping it to reach 63 percent of the 47 million eligible voters.

UNDECIDED VOTERS

The run-off is between the top two of seven candidates from the first round. It is the first time since the 1979 Islamic revolution that a presidential poll has gone to a second round.

In a last-minute bid to win over undecided voters, Rafsanjani offered each Iranian family share options worth about $11,200 in privatized companies if he becomes president.

In the first round, another candidate came third and just missed the run-off after offering $62 per month to each Iranian over 18 as a share of Iran's oil wealth.

The election has exposed deep splits among Iran's mostly youthful electorate. The minimum voting age is 15.

"Class difference is an issue the revolution was supposed to resolve but didn't. In fact, class disparities have widened despite high oil prices," said Karim Sadjadpour, Tehran-based analyst for the International Crisis Group thinktank.

Rafsanjani's supporters tend to be from the upper and middle classes who are tired of Iran's isolation and want more social freedom. They fear Ahmadinejad will turn back the clock to the strictures and purges that followed the 1979 revolution.

Ahmadinejad, a former instructor of the Basij militia, zealous guardians of the revolution's ideals, has support among the religiously conservative working-class, who struggle to make ends meet and for whom strict Islamic codes are no worry.

To them, Ahmadinejad is an outsider challenging the vested business interests of Rafsanjani's wealthy family and others they believe have benefited most from booming oil prices.

Reformist candidates beaten in the first round and now backing Rafsanjani accuse the hardline Revolutionary Guards and Basij of backing Ahmadinejad. Electoral laws bar members of the military from campaigning for any particular candidate.

Ahmadinejad has dismissed such charges as election smears.