After almost four years of desperately searching, Zheng Tianxiao is starting to think he will never find an affordable home in his dream neighborhood. It has even affected his hunt for a girlfriend.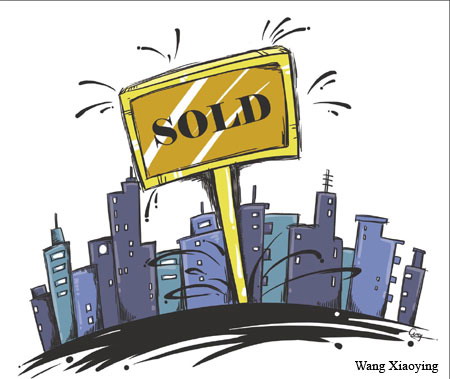 Unable to move out from the apartment he shares with friends in downtown Shanghai, the 28-year-old aeronautic engineer said he is always snubbed by the city's hip, young women because he does not have "a home of my own".
"I don't understand. I am a well-educated professional with a well-paying job. I earn 100,000 yuan a year! So why can't I live where I want to?" he asked as he read the advertisements in the window of a realty company.
His exasperated cries can be heard daily in this cosmopolitan metropolis, as well as in others cities across the nation, where young executives and professionals say they are being squeezed out of the property market by sky-rocketing prices.
Peaks in the market in Shanghai have been common in recent years, but the current spike has taken many homebuyers by surprise.
During the past six months, the normally predictable China property cycle has reportedly been distorted by a flood of liquidity that abruptly triggered a reversal to the downtrend caused by the global financial crisis in late 2007.
This has caused property prices in Shanghai - often seen as a benchmark for the nation - to rise by an average of 19 percent since March.
The jump has been felt hardest in the high-end sector, with average prices soaring by around 10,000 yuan ($1,400) per sq m in just a matter of months.
Units in the luxury Shanghai Westwood development in the city's underdeveloped Zhabei district were priced at 16,000 yuan per sq m in March - now it is at least 26,000 yuan. Meanwhile, an apartment in the exclusive Casa Lakeville tower sold at 70,000 yuan per sq m in February, but to buy it in July would have cost 81,500 yuan per sq m.
The upswing, however, will ultimately do more to dent the hopes of those people looking to buy at the low end, especially after last year's fall in prices when many delayed their purchases due to predictions by many experts the decline would continue.
One of those to take the risk and lose was Zheng. He held off reinvesting the 1.2 million yuan he made from the sale of his home in Minhang district in late 2007 as he felt Shanghai's falling property prices were far from rock bottom.
"I got a new job after graduate school in 2007, which meant I could consider moving to something a bit up-market, like Zhongshan Park," said Zheng, who originally hails from Yangzhou, Jiangsu province. "At the time, prices were falling and I had my eye on an apartment that cost just 1.7 million yuan. So I waited.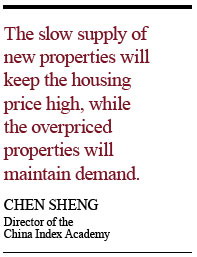 "But when the tide turned, the price suddenly rocketed to 2.5 million yuan, putting it far out of my reach. I tried to be smart and I missed my chance."
The price spike also dashed the dreams of Hu Wenna and her husband, who had started to look seriously for a new home in downtown Shanghai last year during the downturn to help reduce her daily three-hour commute to work.
"Back then we found it hard to sell our home in the suburbs, and now we have given up because the downtown locations are even more expensive, while the less desirable areas have seen little change," she said. "Life is always unfair to less well-off families, like us. All we can do is concentrate on paying off the mortgage."