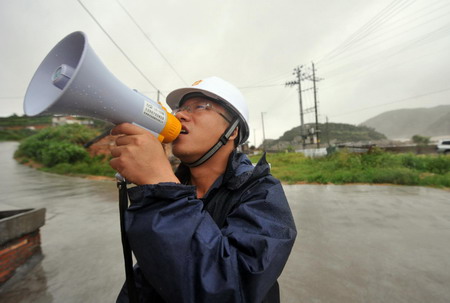 A man calls for people to evacuate to avoid typhoon in Cangnan County, east China's Zhejiang Province, August 8, 2009. [Xinhua]
Anhui issued its first typhoon warning this year, and advised residents to stay indoors.
East China's Shandong province has also warned local governments to take measures beforehand to reduce losses from extreme weather.
Related readings:


 East China on guard as typhoon Morakot approaches


 9 fishermen missing in SE China as typhoon Morakot nears


 Typhoon Morakot whips East Asia


 Taiwanese brace for typhoon Morakot


 900 tourists evacuated as typhoon Morakot nears
Morakot, which means "emerald" in Thai, is the eighth storm to hit China this year. It landed in Hualien of Taiwan at 11:45 pm Friday, and left at least six people dead or missing. A further 12 were injured. Morakot also overturned cars and cut power supplies.
Wave Alert Level Raised
On Saturday afternoon, the National Marine Environmental Forecasting Center upgraded its alert level for both stormy tide and sea wave from "orange" to "red", the highest level.
The center said as a result of Typhoon Morakot, the stormy tide along the coast of Zhejiang Province and northern part of Fujian Province would be 0.5 meters to 1.8 meters high until Sunday afternoon.
The sea in southern part of the East China Sea and Taiwan Strait will be very rough, with monster waves as high as eight meters, the center warned.
Other coastal areas from Shanghai to Guangdong Province will all experience abnormally high waves, from 2.5 meters to six meters high, it said.
China adopts a four-grade warning system for stormy tide, tsunami, sea ice and sea wave, which uses four colors (red, orange, yellow and blue) to indicate different levels of emergency.