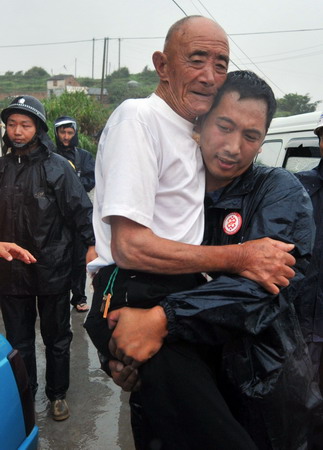 An 80-year-old man is evacuated in Cangnan County, east China's Zhejiang Province, August 8, 2009. [Xinhua]
In Putian City, also in Fujian, all scenic sites and ports have been closed and school classes suspended. A team of 26,222 people has been formed and equipped with flood-control materials, said Huang Dongzhou, director of the city's flood control office.
All of the city's 7,168 fishing ships have returned to harbor, Huang said.
Related readings:


 East China on guard as typhoon Morakot approaches


 9 fishermen missing in SE China as typhoon Morakot nears


 Typhoon Morakot whips East Asia

 Taiwanese brace for typhoon Morakot


 900 tourists evacuated as typhoon Morakot nears
The province's Ningde city is strengthening its defences to bear the brunt of Morakot, local meteorological authorities said.
People there are also reinforcing reservoirs with bricks and stones. Water in the city's 20 major reservoirs is only at 54 percent of their combined capacity, so officials with the flood control office said they think the rainfall will help with drought relief, as long as proper measures are taken to ensure safety.
Residents are also busy reinforcing their own houses.
Chen Kongsheng, a 61-year-old man, has attached four large rocks to the girders of his house, so that the typhoon "won't tear off his roof".
About 118,000 people in the city have been evacuated, said Chen Rongkai, Communist Party chief of the city.
Ningde has readied 103 rescue boats, 15 rafts and 8,300 life jackets to help people affected by the typhoon.
Efforts And Troubles Elsewhere
In adjacent Zhejiang Province, rainfall exceeded 50 millimetres on 6.8 percent of the province's land on Friday night. The highest reading was 110 millimetres in Cangnan county bordering Fujian.
An expressway from Wenzhou of Zhejiang to Fujian was closed for 12 kilometers, while another from Hangzhou to Anhui Province was cut by landslides.
Power supply to 80 villages was also cut.
Nearly 500,000 residents and tourists in danger areas had been evacuated by 9 pm and the province has called nearly 30,000 ships back to harbor.
More than 50,000 soldiers were prepared for emergencies in Zhejiang, said the local government.
Shanghai was put on high alert and the World Expo venue is being protected around the clock.
More than 80 foreign ships were delayed or had their voyages cancelled.
"We are unlikely to resume if the typhoon moves northwestwards," said the captain of a Japanese cargo ship, which was scheduled to sail for Japan Saturday at noon.
In addition, more than 140 flights in Shanghai had been delayed by about 10 pm.