FUZHOU/TAIPEI/HANGZHOU: A fishing boat capsized at about 10 pm Friday off the coast of southern island province of Hainan as the tropical storm Goni wreak the havoc.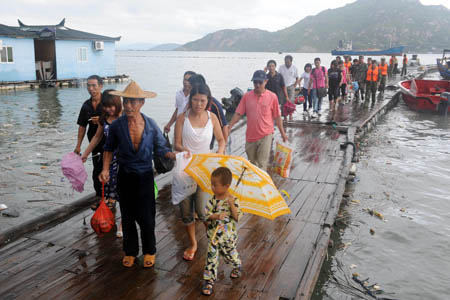 Residents living on the sea are evacuated to the safe place in Ningde City, southeast China's Fujian province, on Aug. 7, 2009. [Xinhua]
All the 10 fishermen fall into the water and only one managed to swim to the beach. Rescers were searching for the missing.
Authorities in southeast China's Fujian province have ordered all schools and scenic spots to close before 4 pm Friday, as typhoon Morakot nears.
Related readings:


 Typhoon Morakot whips East Asia


 Taiwanese brace for typhoon Morakot


 Typhoon Morakot whips Taiwan, nears SE China coast


 20,000 evacuated in SE. China as typhoon nears


 China braces for typhoon Morakot
The Fujian provincial flood control and drought relief headquarters said Friday that about 34,000 vessels had been recalled to port and 21,190 people in the cities of Ningde, Putian, Fuzhou and Quanzhou had been relocated to safe areas.
The headquarters has entrusted the education bureau to notify schools in the four cities to stop all activities, and make sure all teachers and students leave safely.
Waves as high as six meters were already hitting the coastal area on Friday, and the provincial meteorological observatory said they could reach up to nine meters as the typhoon came closer.
According to China National Meteorological Center, Morakot, the eighth typhoon to affect China's mainland, was 180 km southeast of Keelung,
Taiwan, as of 10 am Friday, packing winds up to 144 km per hour in the center.
It is moving at 15 km per hour northwestward, and is expected to hit Taiwan Friday evening, and would land in northern Fujian and central Zhejiang sometime from Saturday afternoon to Sunday morning.
Dong Rong, deputy director of the Fujian observatory, said, Morakot would be the strongest typhoon to land in China's mainland this year.