20,000 evacuated in SE. China as typhoon nears
FUZHOU/TAIPEI: More than 20,000 people have been evacuated from their homes in southeast China's coast of Fujian Province where typhoon Morakot is predicted to land on Saturday.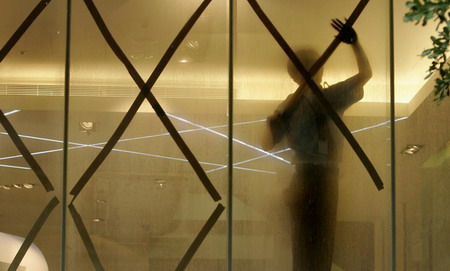 A man sticks tape on a glass window to prepare for Typhoon Morakot in Taipei August 6, 2009. [Agencies]
The provincial flood control and drought relief headquarters said Friday that about 34,000 vessels had been recalled to port and 21,190 people in the cities of Ningde, Putian and Fuzhou had been relocated to safe areas.
Waves as high as six meters were already hitting the coastal area on Friday. and the provincial meteorological observatory said they could reach up to nine meters as the typhoon came closer.
According to the observatory, Morakot, classified as a strong typhoon, was 540 kilometers east of Xiapu County of Fujian early Friday, packing winds up to 144 km per hour at its center.
The provincial government has sent 8.4 million text messages to mobile phone users, warning people of its approach.
Related readings:


 China braces for typhoon Morakot


 900 tourists evacuated as typhoon Morakot nears


 China on high alert against storms Goni, Morakot


 Fierce storm set to strike Taiwan
The observatory forecast the typhoon would make a landfall in northern and central Fujian on Saturday and bring heavy rain and gales to coastal regions.
According to the Taiwan weather department, Morakot was slowing, but remained a strong typhoon, indicating both its impact and the duration would increase.
It was about 270 kilometers southeast of the island's eastern Yilan county at 5 a.m. Friday and was expected to make a landfall Friday evening between Hualien and Yilan counties in the southeast of the island.
Schools in almost all cities and counties on the island and the Taipei stock market closed Friday.
As of Friday morning, most domestic and some international flights, mostly to Hong Kong, had been canceled.
The local authorities said train services would be suspended or reduced by Friday noon.