BEIJING: US Secretary of Commerce Gary Locke and Secretary of Energy Steven Chu, both Chinese Americans, began their China tour by stressing the importance of cooperation between the two nations in slowing global warming.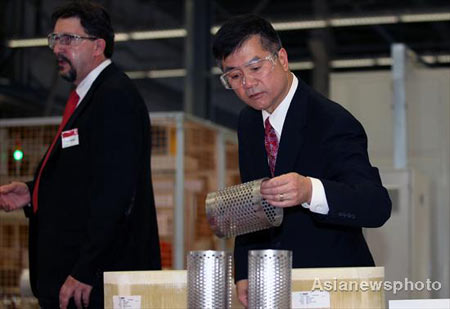 US Commerce Secretary Gary Locke (C) visits a company at the Beijing Economic and Technological Development Area, Wednesday, July 15, 2009. [Asianewsphoto] 
"The Earth is warming in most places because of greenhouse gases," Chu told about 500 students in the main hall of the prestigious Tsinghua University in Beijing.
In his one-and-a-half-hour speech, Chu elaborated the cause and possible danger of climate change, appealing the world to shun "a business-as-usual path".
Related readings:


 Locke: Anti-dumping cases not indications of US policy


 Locke urges level playing field for US firms


 Locke approved as US commerce secretary


 Locke's commerce nomination gets thumbs up


 Chinese-American Locke likely US commerce nominee
"Science has shown that we are altering the destiny of our planet. The consequences of what we are doing today will not be fully realized for at least 100 years," Chu said.
He suggested China and the United States, the top two greenhouse gas emitters, should boost cooperation in clean energy sectors such as carbon dioxide capture and transformation.
"We should continue this tradition of cooperation" which could set examples for the developed and developing countries, Chu said, noting that this year marks the 30th anniversary of the Agreement for Scientific and Technological Cooperation between China and the United States.
"His speech was much longer than we had expected, but also very specific, statistic-based and persuasive," said Han Fugui, a post-graduate majoring in building environment.
In a speech to the American Chamber of Commerce in China at a downtown hotel in Beijing, Locke also suggested China and the United States step up cooperation on clean energy.
"We are here to advance what can be one of the most beneficial areas of cooperation in the history of U.S-China relations: the development, production and deployment of clean energy and energy efficiency technologies," Locke told a luncheon gathering of the US business circle in Beijing.
Terming clean energy as "the greatest economic opportunity" of the 21st century, Locke said , "as two of the world's most productive and innovative economies, the United States and China are uniquely positioned to create the solar, wind, biofuel and other renewable technologies that the world want and need."
Locke said that the widespread deployment of energy efficiency and clean energy technologies is also "the only way our economic can continue to grow" while preventing the catastrophic effects of climate change.
"As the two biggest emitters of carbon dioxide, the United States and China have a special responsibility to take action," Locke said.
He acknowledged that "countries like the United States have spent 150 years using coal, oil and other dirty fuel to grow their economies," but stressed that Mother Nature doesn't discriminate between carbon that comes from the United States or China, Europe or India.
"Meeting the challenge will require more than just concerted governmental action," Locke said.
Locke stressed that US companies have considerable advanced technology that can assist China in its clean energy transition.
"We need to empower US and Chinese entrepreneurs and innovators to create and collaborate free from artificial trade barriers."
Chu and Locke arrived in Beijing Tuesday afternoon and were expected to meet Chinese leaders including Premier Wen Jiabao during their three-day visit to China, the homeland of either their parents or grandparents.
Earlier, they had a flurry of meetings with leading officials from the National Development and Reform Commission and the Science and Technology Ministry. They will meet leading officials from the Commerce Ministry, the Health Ministry and the Industry and Information Technology Ministry.