WASHINGDONG DC: The nomination of Gary Locke, former governor of Washington state, as secretary of commence by US President Barack Obama has drawn praise from the business community and Chinese Americans.
If confirmed by the Senate, Locke would be the second Chinese American in Obama's cabinet after Steven Chu, who serves as energy secretary.
It was Obama's third attempt to fill the cabinet position as he battles to put the brakes on one of the country's worst economic recessions.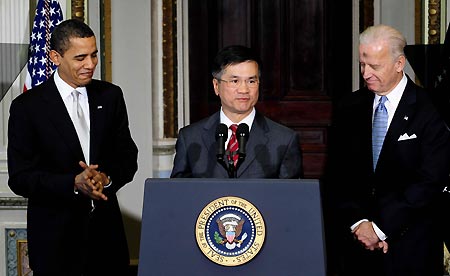 US Former Washington state Governor Gary Locke makes a speech,as US Presidend Barack Obama and Vice President Joe Biden stand by, after he was nominated as commerce secretary in US President Barack Obama's administration, at the White House, Washington,D.C., on February 25, 2009. [Xinhua]
Obama praised Locke as a public servant who shares the president's economic vision and who had grown to political prominence from humble, immigrant beginnings.
The president's two earlier choices for the post dropped out - New Mexico Governor Bill Richardson in the face of questions about a donor and Republican Senator Judd Gregg after a change of heart about working for a president from the opposition party - well before the Senate had a chance to confirm them.
The Committee of 100 (C-100), an organization of prominent Chinese Americans in a broad range of professions, congratulated Locke, its member since 2005, for the nomination announced on Wednesday.
"We agree with President Obama that Gary is the right man for the job. His outstanding leadership skills and extensive experience in international trade and government relations are crucial for our nation to recover and prosper. We applaud his nomination," C-100 Chairman and retired US army major-general John Fugh said.
In turning to Locke, Obama recruited a low-key, pro-trade Democrat who was the nation's first Chinese-American governor, from 1997 to 2005. Locke noted his grandfather moved from China to Washington State a century ago and worked as a houseboy in exchange for English lessons just a mile from the governor's mansion.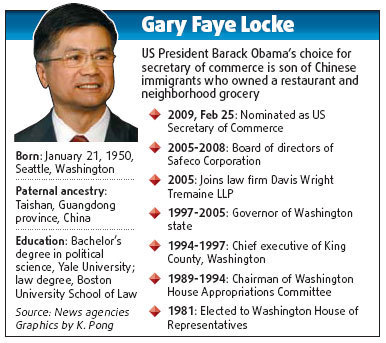 "It took our family 100 years to move that one mile, a journey possible only in America," he said.
Locke has worked as a partner in the Seattle office of the law firm Davis Wright Tremaine after leaving office in 2005. The firm's website lists his specialties as China, energy, government relations and corporate diversity counseling.
"We need a guy at Commerce who both understands the importance of trade and has the political know-how to get things done," said Myron Brilliant, senior vice-president of the US Chamber of Commerce, the largest business lobbying group. "Locke knows the importance of international engagement, with China as a key part of it."
Many of the biggest US companies see China as a rare export opportunity amid the global recession. US exports to China grew 10 percent last year, and China is now its third-largest export market.
But Locke, known for having helped facilitate major deals between US companies and China, may find his style seen in a different light by lawmakers, unions and US factory owners who are more conservative about trade with China.
"Locke understands the benefits of trade up close and personal," said Christopher Padilla, a former undersecretary of commerce and a managing director of C&M International, a trade and investment consulting firm in Washington. "But the question will be how he reacts to the enormous protectionist pressures he will face."
Some manufacturer groups point to China's record trade surpluses with the US as evidence that Locke's pro-trade policies need to be realigned.
"We are in a different world now, and we need a total rethinking of our economic models," said Alan Tonelson, a research fellow at the US Business and Industry Council, which represents American-based manufacturers. "I hope Locke will be more flexible, but the jury is out."