WASHINGTON -- Gary Locke, the first Chinese-American who ever led a US state government, was confirmed by the Senate on Tuesday as commerce secretary.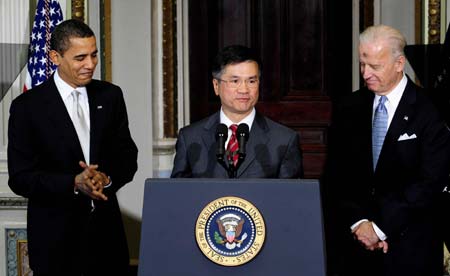 File photo taken on Feb. 25, 2009 shows Gary Locke (C) makes a speech, as US President Barack Obama (L) and Vice President Joe Biden stand by, after he was nominated as commerce secretary in Obama's administration at the White House, Washington, the United States. [Xinhua] 
Related readings:


 Locke's commerce nomination gets thumbs up


 Obama picks Gary Locke as commerce chief


 Former governor Locke likely commerce nominee


 China ties make Locke good pick for US Commerce
Locke, 59, "will ensure American workers can prosper, our businesses can thrive and the economy can grow," said Senate Committee Chairman Jay Rockefeller.
Senate Maria Cantwell also praised that Locke "will bring strong leadership to the Commerce Department and understands the challenges many Americans face as we work to stabilize our economy."
Locke was elected to lead the Washington state in 1996 and re-elected in 2000. Prior to governorship, the Democrat served 5 terms in the House of Representatives and one term as executive of King County, Washington.
He was chairman of the House Appropriations Committee from 1989 to 1994.
Locke earned a bachelor's degree in political science from Yale University, and a law degree from Boston University. Analysts said he is a Democrat who "is a comfortable ideological fit with the Obama administration."
While the Secretary of Commerce is not regarded as one of the top-tier power posts in the US Cabinet, he could serve as a voice for the globalists in the new administration.
He comes squarely out of the free-trade mindset of the mainstream business community in the northwestern United States and has a good relationship with China.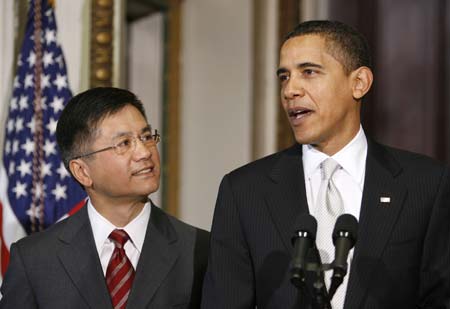 US President Barack Obama nominates Washington Governor Gary Locke (L) to become commerce secretary in Washington February 25, 2009. [Xinhua]
Personally, Locke seems like he would fit in with the "No Drama Obama" approach to governing.
During his tenure as governor, he has the reputation of being a wonkish, pragmatic figure who was not unnecessarily combative.
A White House statement described Locke as a "tireless and successful champion of American products, services and jobs."