WASHINGTON -- Former Washington state Governor Gary Locke, the son of Chinese immigrants with expertise in working with Beijing, is a good choice for commerce secretary at a time when cooperation between the two countries is key to global growth, the head of a US-China business group said on Tuesday.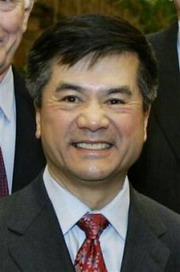 Gary Locke
"He's well regarded in China and I think he's somebody they would listen to," John Frisbie, president of the US-China Business Council, told Reuters.
President Barack Obama is expected to announce on Wednesday that he is nominating Locke to be commerce secretary after his two previous nominees withdrew.
Locke was the first Chinese American governor in US history. During his two terms as governor from 1997 through 2004 he led eight trade missions to China and opened a Washington state trade office in Guangzhou.
Locke first met Chinese President Hu Jintao on those trips and later helped plan and coordinate Hu's September 2005 visit to Washington state.
Those relationships would be an asset for the Obama administration, which has signaled it wants to work with China to keep trade frictions in check and address global environmental and energy concerns, Frisbie said.
Locke is now a partner in the Seattle office of law firm Davis Wright Termaine, where he specializes in China, energy and government relations issues. He is also a member of the Committee of 100, a group of Chinese Americans who encourage strong ties between the United States and China.
Washington state is home to software giant Microsoft and aircraft manufacturer Boeing's main production facilities, as well as international coffee purveyor Starbucks.
Thea Lee, policy director for the 11-million-member AFL-CIO labor federation, said her group also liked Locke.
"He has a great relationship with the Washington state unions. He has a good understanding of the need to both promote exports, which is enormously important, and to make sure our trade laws are respected," Lee said.