Blogger's Photos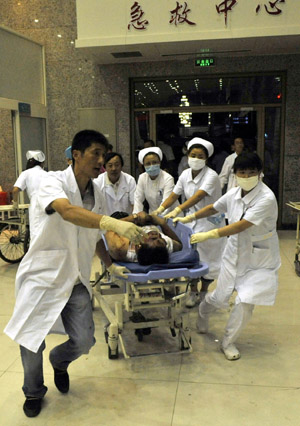 An injured man is carried to an urgent care center in Urumqi, capital of northwest China's Xinjiang Uygur Autonomous Region Sunday July 5, 2009. [Xinhua]
A blogger, who claimed to have witnessed the tragedy, posted some photos on China.com.
One of the photos seemed to be the aftermath of the riot. In the dim lamp light, dozens of people were standing, while six or seven people, or bodies, were lying in the road.
On another, a middle-aged man in a white shirt was trying to stop blood bleeding from a young man, who lay on his back on the road with blood on his neck, on his white shirt and on the ground.
Still In Anxiety
Although traffic control was lifted Monday morning in parts of Urumqi and debris has been cleared from the roads, residents were still trembling in fear.
In the streets most of the shops were still closed and many chose to stay at home rather than going to work.
"We don't feel safe," said an unnamed woman with a stock company.
A Mr. Zhao in his late 30s worked late on Sunday to send the injured to hospital.
"Although the riot was over, I have unspeakable worry," he said.
His worry was partially from social order. "Is the riot really over?"
Also, he worried about how the government would deal with their losses, as his car was damaged by wooden and steel sticks yielded by rioters.
"Who will compensate us?" he asked.