URUMQI: Returning to his Geely automobile store, Guo Jianxin was still frightened by the nightmare Sunday.
"Fortunately I managed to leave," said the general manager of the store in Urumqi, capital of northwest China's Xinjiang Uygur Autonomous Region.
"It was about 10 p.m. and I found rioters outside," he said. The manager called more than 20 workers from the store, who had already left after a day's work.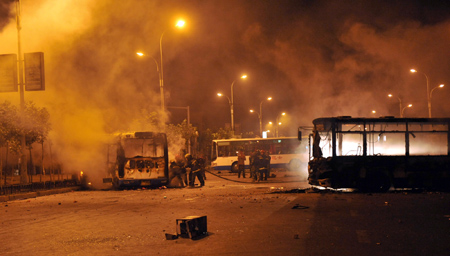 Firemen put out a fire in Dawannanlu Street in Urumqi, capital of northwest China's Xinjiang Uygur Autonomous Region Sunday July 5, 2009. [Xinhua]
"I asked them to help protect the store, but there were too many rioters...more than 100, holding knives, clubs and stones," said Guo, an ethnic Hui.
Failing to dissuade the rioters from entering the store, Guo led his workers to flee. They hid on a hill beside the store.
Related readings:


 Victims in toy plant brawl condemn Xinjiang riots


 Death toll in Xinjiang riot rises to 140, still climbing


 Order partially restored in Xinjiang; tension remains


 Death toll in Xinjiang riot rises to 140


 Commentary: Riot a catastrophe for Xinjiang


 Factbook: Previous unrests in China's Xinjiang
The three-storey building was ablaze, while more than 30 new cars in the store were all torched. One worker's arm was broken and he was sent to hospital.
Opposite the store was a shop owned by a Han couple. They told Xinhua reporter that they saw rioters on the streets after 10 p.m., immediately shut the door and escaped.
When they returned, the couple found that their shop was burned, some 20,000 yuan (US$2,941) and a camera in the counter was gone.
But they didn't complain much. Next door, a young worker from the southwestern Sichuan Province was beaten to death.
In The Hospital
China is shocked by a death toll of 140 which is still climbing. Rioters also burned 261 motor vehicles, including 190 buses, at least 10 taxis and two police cars, Sunday evening in the city.
The People's Hospital, one of the biggest hospitals in Xinjiang's capital Urumqi, treated 291 riot victims, among whom 17 died later.
Among them, 233 were Han people, 39 were Uygurs, while the rest were from other ethnic minorities like Hui and Kazak, said Wang Faxing, president of the hospital.
In the ICU wards on the 13th floor, more than 20 seriously injured were being treated. They, all in comas, had wounds to the head or the chest and limbs.
Zhu Haifeng is a 16-year-old student from the No.43 Middle School, who was assaulted on the way home after school. He was knocked on the head and his eyes were swollen.
According to an unnamed doctor, Zhu's parents had been looking for him after the riot, but failed to contact him via mobile phone as the line was cut temporarily.
"When they found their fainted son, they could hardly recognize him," said the doctor.
The 48-year-old Li Quanli with bandages around his head is a police officer. Seeing several youngsters smashing a No.7 bus, he hurried to stop them, but was surrounded and beaten.