Scenes Witnessed By Xinhua Reporters
People began to gather in the Urumqi People's Square at 6:20 p.m. Sunday, and some started smashing and looting at about 8 p.m..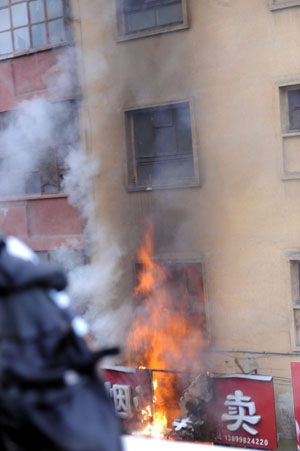 Photo taken on July 5, 2009 shows a shop being burned in a street of Urumqi, capital of northwest China's Xinjiang Uygur Autonomous Region. [Xinhua]
Xinhua reporters saw at about 10 p.m. at the crossing of Xinhua South Road and Tianchi Road that a police station was damaged. A group of young men were chanting slogans and wielding wooden clubs, while several others were distributing hoes.
Then rioters destroyed barriers on the road and began chasing Han Chinese. Many bus windows were smashed. Some Han passengers were surrounded and beaten as soon as they got off the bus. Many were left with blood dripping down their faces.
Under a viaduct on the Tuanjie Road, Xinhua reporters saw a man who had been killed by rioters, and some steps away, a dead woman carrying a handbag lay on her stomach.
They also saw a big wine shop ablaze. In the blaze, window glass blew out, with a loud noise. Later they saw a taxi which had been stopped by rioters, and was now parked on the road. Inside was a Han driver. He was covered in blood. Witnesses couldn't say for sure whether he was alive or dead.
A 36-year-old woman, whose face was covered by blooded, was wailing while running with her daughter and husband. Xinhua reporters sent her to a hospital.
When the armed police finally arrived and brought the riot under control, many onlookers, Hans and Uygurs alike, hurrahed.
Blood-tainted Street
Liu Jie is owner of a supermarket in the Houquan street, which lost more than 900,000 yuan in the riot.
Related readings:


 Death toll in Xinjiang riot rises to 140, still climbing


 Order partially restored in Xinjiang; tension remains


 Death toll in Xinjiang riot rises to 140


 Commentary: Riot a catastrophe for Xinjiang


 Factbook: Previous unrests in China's Xinjiang
In the street, five buses and four cars were burned and a driver was missing, said the lady in her 30s, who was still quivering and crying. Her hands and legs were black from dust and ashes.
"Rioters came at 7:50 p.m....altogether five groups," she said.
Next door to the supermarket was a training center. Liu and more than 100 students from the center hid in the basement of the supermarket as rioters were overturning the shelves and smashing bottles.
Then someone set fire to the market, and those in the basement moved to the yard. "We were scared to death," she sobbed. But nobody dared to go out.
At about 2 a.m. Monday when they heard that police enter, they shouted "help" and were rescued.
When they came out, Liu saw many people lying in the street. "Blood was everywhere," she said.
Xinhua reporters saw in the street that wheels of two cars were still on fire as of Monday noon.
Several blocks away in the Zhongquan street, within 100 meters there were more than 20 blood stains and some bricks with blood and hair and something like skin on them.
Pointing at a big pool of blood, Ezmad Abla, vice director of the construction bureau of Tianshan district in Urumqi, said that there was so much blood that if it came from one man then maybe he was dead.
A few meters away from the blood was a burnt tree, under which a car was torched.
"The dead person could be the driver, or just a passer-by," he sighed.