Political unrest comes readily to most people's mind when they think about the greatest challenge facing Thai Prime Minister Abhisit Vejjajiva, especially after the abrupt cancellation of the East Asia summit in April.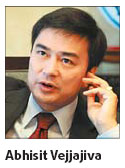 But Abhisit said on Friday what he was really concerned with how to revive Thailand's economy.
"When I came to power, a lot of focus was on the political difficulties. But the real issues that matter for the Thai people are actually economic issues," Abhisit told journalists after meeting President Hu Jintao in the morning. He is scheduled to wrap up his four-day visit to China on Saturday.
"So I've been emphasizing to my cabinet members that we mustn't lose focus that's why despite all that has happened in the past half year, our economic recovery plan is on track and on time," the 45-year-old prime minister said.
The Thai political situation, which has been unstable during the past couple of years, has stabilized and shown a "clear trend" of moving toward democracy after regional leaders had to be evacuated by helicopters on April 11 when protesters stormed the venue of the East Asia summit in Pattaya.
Related readings:


 Chinese President meets Thai PM

 Thai PM starts China tour


 Thai, Chinese firms clinch $1.2b deal on starch purchase

"I decided to provide what I feel should be a model of a career politician," said the Oxford-educated leader. "We have to deal with political stability but we know it will take time and patience."
Abhisit is leading more than 100 officials and entrepreneurs, his largest overseas delegation, on his first visit to China since taking office in December.
He is seizing every chance that his tightly-scheduled meetings with Chinese leaders, entrepreneurs and the media offer to increase trade with and attract more tourists and investments from China. He has a three-year 1.4-trillion-baht ($40.9 billion) plan to revive the Thai economy that is facing its first annual contraction since 1998.
In the first quarter of this year, the Thai economy shrunk by 7.1 percent, according to the Thai Commerce Ministry. Trade with China fell 25 percent to $11.3 billion in the first five months of this year.
After the Chinese government advised its citizens against visiting Thailand following the April unrest, the flow of Chinese tourists fell by 35 percent in the next two months.
But Abhisit's efforts have received a positive response in Beijing. On Wednesday, he and Premier Wen Jiabao officiated at the signing of an agreement to expand bilateral economic cooperation.
On Friday afternoon, Abhisit told a news conference that Chinese businesses were interested in his government's stimulus package, and possible projects might include railways in Bangkok and elsewhere in Thailand.
"Political changes in Thailand have been taking place not just in recent years but throughout decades," he told the journalists in the morning. "Whatever differences there maybe in Thai society, we welcome foreign visitors and investors."
The Abhisit government is busy preparing for the East Asia summit, now re-scheduled for October in the tourist resort of Phuket.