China may continue buying US Treasury bonds and other dollar-denominated assets even though US government debt yielded the lowest return in three decades this year and the dollar is under pressure, experts say.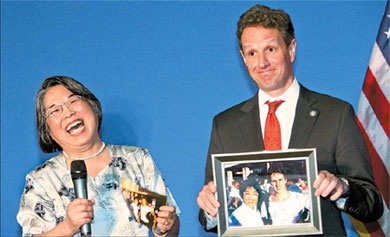 US Treasury Secretary Timothy Geithner and Fu Min, his former teacher at Peking University - where he studied Chinese in the 1980s - Monday hold up copies of a photograph of them together then. [Photo by Wang Tiantian/China Daily] 
The comments came as US Treasury Secretary Timothy Geithner Monday tried to reassure China that its vast holdings of US financial assets are "very safe", and that Washington is committed to a strong dollar as well as a reduction in the budget deficit.
The US' top finance official also promised "very disciplined" future spending, possibly including reintroduction of pay-as-you-go budget rules.
Geithner, who is in China on his maiden trip as Treasury Secretary, was speaking at Peking University, where he studied Chinese more than two decades ago.
Zhao Quanhou, a senior researcher with the Ministry of Finance, pointed out that "investing in US Treasury bills is an important component of China's foreign currency reserve investments. This type of investment is comparatively safe as the US financial market is the largest in the world and is highly liquid".
"But the timing of purchases is critical. The government should pay close attention to possible fluctuations in the value of the US assets."
Related full coverage:


US Officials and China Connections
Related readings:


 Geithner tells China its dollar assets are safe


 Geithner looks to sell safety of US bonds


 Geithner's China trip to focus on trade


 Geithner visit may focus on joint effort to beat recession


 Geithner aims for positive China tour
Gong Liutang, a professor of Guanghua School of Management at Peking University, agreed, saying that China has limited choices for investing, with US-denominated assets still a "priority" considering overall risk and liquidity.
But they pointed out that China might have to adopt a "de-dollar" strategy if the US failed to restructure its economy by increasing the country's savings rate and reducing its current account deficit.
"In that situation, China will have to speed up the yuan's internationalization and realign the portfolio of its foreign reserves," said Sun Lijian, an expert at Fudan University.
China has turned its huge trade surpluses with the US into the world's largest holdings of Treasury debt.
China now holds about $768 billion of Treasuries as of March.
The government and experts have expressed concern that Washington's mushrooming deficit, generated by massive government borrowing to fuel its economic recovery plan, and the ultra-loose monetary policy will undermine both the dollar and US bonds.
As the media predicted, the Geithner avoided emphasizing repeated US calls for revaluation of the yuan in his speech, mentioning briefly that a more flexible exchange rate regime would spur Chinese domestic demand.
Experts said the move showed Washington's "pragmatic" attitude when seeking help from Beijing.
In his speech, Geithner also backed China for more influence in the framing of international policy.
"China is already too important to the global economy not to have a full seat at the international table," he said.
Though he described the recession as still "powerful and dangerous" in much of the world, Geithner said the global recession seems to be "losing force".
"In the US, the pace of decline in economic activity has slowed ... Households are saving more ... Orders for goods and services are somewhat stronger," he said.
Moreover, the US financial system was healing and it now seemed that the world would avoid financial collapse and deflation, he added.
Geithner spent Monday in a flurry of meetings with China's top economic team, including Vice-Premier Wang Qishan and the commerce, finance and banking chiefs.
During his meeting with Wang, his Chinese counterpart at the China-US Strategic and Economic Dialogue (SAED), Geithner discussed details of the upcoming dialogue scheduled this summer in Washington.
The US wants to develop relations with China from a long-term and global perspective and handle major economic issues between the two sides under the framework of the dialogue, Geithner said.
Geithner is due to meet with President Hu Jintao and Premier Wen Jiabao today.
Agencies contributed to the story