Born following the adoption of the reform and opening up policy in 1978, China's post-80s generation was always going to play an important role in the nation's development. As the country's economy and confidence has grown, so too have they.
Fast food, Hollywood movies and the Internet are a major part of their lives - they are connected and have their fingers on the world's pulse.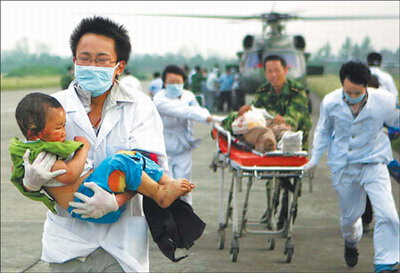 A volunteer from Sichuan University carries Lin Yang, 2, in his arms from a helicopter on May 21 last year after landing with evacuees to Chengdu, the capital of Sichuan province, following the May 12 earthquake in Wenchuan county. [Xu Jingxing/China Daily] 
China's one-child family-planning policy came into effect more than 30 years ago and, according to a report in the Beijing Review, which quoted China Yearbook, an annual compilation of statistics published by central government agencies, 200 million babies were born between 1980 and 1989.
Yuan Yue, the president and CEO of consultancy group Horizon Research, said about 65 percent of the overall post-80s generation - aged 20 to 29 - were from one-child families, while that figure rose to 85 percent in urban areas.
Related readings:


 Memory of a post-80s generation girl


 The war between the 80s and the 90s


 Art exhibition for 80s generation starts


 The 80s children show talent for trouble


 '80s becoming confident bosses of start-ups
During their advancing years, they have been branded spoilt, materialistic and self-centered, and accused of lacking a sense of social responsibility.
But those opinions have all but been reversed by an eventful 2008, a year in which they came under the spotlight not only during the worldwide Olympic torch relay, but also during the Beijing Games, and volunteered in their hundreds to boost earthquake relief efforts following the May 12 disaster in Sichuan province.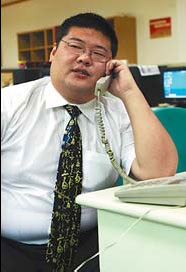 Li Huan, talks on the phone in his hometown of Xi'an, Shaanxi province, on May 5 last year. He is famous for making an impassioned speech in Paris, France, on April 19 last year denouncing sections of the French media for distorted reports on the March 14 riots in Lhasa, Tibet. [CFP]
Now many are dubbing them patriotic, persistent, caring and responsible. So which is the real post-80s generation?
The question has already grabbed the attention of the Brookings Institution, a United States think tank, which in April held a seminar on "Understanding China's 'angry youth': What does the future hold?" to examine this unique segment of society and discuss what makes them tick.
In the seminar's introductory notes, organizers said China's "angry youth", or fenqing, was a phenomenon for China and the rest of the world.
They also said that these 20-somethings often use the Internet to publicly express their views on politics and society, while their hyper-nationalistic and slightly anti-US sentiments, which started to emerge in the late 1990s, stand in sharp contrast to the Chinese youth of 20 years ago.
"We are a big part of the Chinese society and we have a real responsibility to react when our motherland is misrepresented," said Li Huan, a 27-year-old from Xi'an, Shaanxi province.
Li made headlines last year with his patriotic and passionate speech at a Paris rally on April 19. Delivered in fluent French, he spoke before thousands of Chinese students and expatriates to support the Beijing Olympics and denounced the French media for distorted reports of the March 14 riots in Lhasa, capital of the Tibet autonomous region.
"The majority of the Chinese students at the rally were post-80s children," he told China Daily.
At the time of the speech, which was staged in the city's Place de la Republique, Li was a postgraduate student at the University of Lille II and has since been credited with helping to redefine the Western media's perspective on China's youth.
"After the April 19 rally, the French media for the first time reported on Tibet as a feudal serfdom society restricted by the Dalai Lama. It was the first fair reporting on Tibet after the Lhasa riots," he said.
Defining the post-80s generation, however, was a harder challenge for Li, who now lives and works in Paris. He described them as active, independent and Internet savvy, with diversified opinions, and "feel China is closer to the rest of the world".
"But they are also rebellious and critical of things at home and abroad. They don't accept injustice or unfairness.
"Post-80s are a force for justice, fairness and progress. They look at the world objectively. They not only care about China's image, but also the state of the country."
An American journalist with a major news agency in Beijing, who asked not to be named, told China Daily the Western media were paying close attention to the young people of China as they would define the future direction of the country.
"The post-80s generation has access to the Internet and information in different languages, and they also have more money than preceding generations in China," he said. "But they are also patriotic, an emotion that can breed social responsibility and could be behind the relatively sudden rise in volunteerism.