"Today's youth does not represent Chinese society today, but once they reach an age where they control companies and government departments their views will influence the generations that follow."
Li said he hoped China's youth would be patriotic in a "mature and rational way" and added: "I'm against narrow nationalism. I think a person should love himself, not hate others.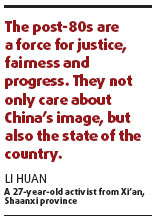 "What I did, speaking at that rally, I didn't do it for fame. When my country's dignity was damaged by the foreign media's distorted coverage of the torch relay, I needed to stand up," he said.
"I hope the Western media can try to understand young Chinese people, but when they call our patriotism a 'result of propaganda', it shows their ignorance."
Chen Jing is a 24-year-old literature student in his fourth year at the Southwest Jiaotong University in Chengdu, Sichuan province, and spends most of his spare time working at a mental health center in the quake-hit city of Dujiangyan. He said he admired Li for his grand stand.
"It's great we have people like Li," Chen said, who added he had been moved to tears by some of the posts he read on online forums about the torch relay last year.
Chen started volunteering last June and said his life has been transformed since joining the legions of volunteers. "I get nothing in return for my free service, but I want to do it and want to keep doing it. It's a belief," he told China Daily.
Liu Huifen, an associate professor on online culture at Tsinghua University in Beijing, said China's post-80s generation had withstood major tests of spirit in 2008, and the world had noticed.
In an age when information is everything, it would be wrong to brand all young people angry or nationalistic, she said.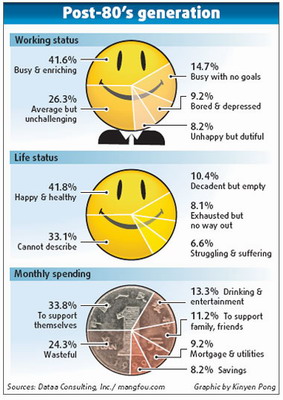 "We can't look at one generation from only one aspect, but we can see their value from certain events," she explained. "Nor should they be branded weak. It's hard to bear hardships when they don't need to, when they have so far grown up without economic pressure.
"It's not that young people don't have traditional values, they just don't usually have opportunities to display them. An eventful 2008 offered them a platform to demonstrate their patriotism, caring and hard work."
Many experts on youth culture said they believe the post-80s set have unique values and unprecedented opportunities compared to previous generations thanks to the environments they have grown up in, the education they have received and the global information they have access to.
With this in mind, their voices are being heard louder and clearer than ever before on the world stage.
"Living in a time of globalization and digitalization helps broaden their minds and allows them to adopt different communication and diversified values," said Liu.
"The post-80s make up a large part of the 300 million Internet users in China and form a noticeable force online as they respond quickly to events such as the protests during the torch relay.
"They are progressive forces and China's future belongs to them."
A 29-year-old Canadian journalist for an international news organization, who also asked to remain anonymous, said the post-80s generation may be regarded as a phenomenon in China but was "unremarkable from a global perspective".
"The 20-somethings in China are focused on trying to establish themselves, trying to find jobs that satisfy their goals and figuring out how to scrape together enough money to buy their first car or house," said the reporter, who lives in Beijing.
"The fact this kind of experience is internationally recognizable is what sets the post-80s generation apart from those that preceded it in China.
"The post-70s generation grew up in a time of even more fundamental change, since they straddle the reform and opening up divide. But what always strikes me is the constant competition the post-80s has to deal with - to get into a good university, get a good job, find a decent apartment.
"More than any generation before them, the post-80s have had to fight their way through the market forces that are now so dominant in the Chinese economy."
However, although the competitive pressure has been good for the country, he said he still felt for those who have had to experience it.
"In compelling so many young Chinese to study extremely hard and strive to be better, it has made for very educated, ambitious people who succeed on their own merits. But I certainly count my blessings I wasn't born into such a competitive environment.
"Compared to the pressures and expectations faced by Chinese friends my age, I feel I had a pretty easy ride in Canada."