CHENGDU -- A total of 5,335 students in Sichuan were dead or missing from May 12 earthquake, said Tu Wentao, head of the education department of the Sichuan province at a press conference Thursday morning.
Full Coverage:


Sichuan, One Year On
Related readings:


Post-quake schools will be 'safest'

DNA identification helps quake survivors find dead


Quake orphans struggle to carry on


Another baby, solace for bereaved in quake zone


After fatal lesson, China builds stronger school in quake zone
Another 546 students were handicapped in the southwestern province, Tu said.
Thousands of schools collapsed in Sichuan in the magnitude 8.0 quake last May. Statistics from the Sichuan provincial education department showed that 3,340 schools needed to be rebuilt after the earthquake.
The government has pledged to have 95 percent of the students back in school buildings, rather than tents or prefabricated structures, before the end of this year. All students should be in regular school buildings by next spring.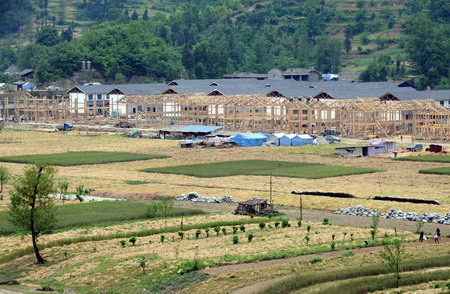 New houses are under construction in Qingchuan county, southwest China's Sichuan province Wednesday May 6, 2009. [Xinhua] 
Huang Mingquan, head of the provincial civil affairs department, said in the same press conference that the death toll from the earthquake, which took place on May 12 last year in Sichuan Province, was 68,712, and another 17,921 people in Sichuan were missing after the disaster.
The province, epicenter of the quake, has so far received about 15.75 billion yuan ($2.31 billion) in quake donations, according to Huang Jinsheng, head of the provincial finance department.
He said that the provincial government has received 9.13 billion yuan, while the rest of the funds were forwarded to prefectures and counties in the province.
The official vowed to strictly monitor the use of the donations and make public the use the donations.
Reconstruction work is progressing.
According to Yu Wei, spokesman with the provincial government, more than 241,000 houses in the rural areas of the quake zone and 105,000 apartments in cities and townships are under construction, with another one million in rural areas and 33,000 in cities already finished.
Rebuilding of rural houses is expected to be finished by the end of this September, while those in cities will be completed by next May, he said.
To date, construction of 46.2 percent of the damaged clinics and hospitals has started, Yu said, adding that the rebuilding work of 99 percent of basic public service facilities including clinics and hospitals across the province will be completed in two years.
Governments have helped nearly 1.3 million quake-affected people find new jobs, Yu said.