CHENGDU -- His son might have survived the Sichuan earthquake, had such school buildings been available at the time.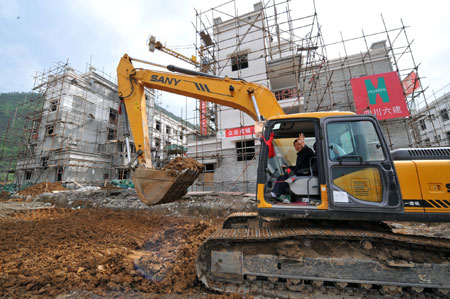 A worker drives a digger at the construction site of the Leigu Middle School in Beichuan county, southwest China's Sichuan province, April 27, 2009.  [Xinhua]
As Song Guobin worked on the construction site of a new school in the Leigu Township of southwest Sichuan province, his feelings were mixed.
"The new school buildings are definitely stronger," he said, pointing at a pillar. "If only my boy could study in such a building as this." In the background, more than 100 workers were busy finishing the three-story building, which is set to open on May 12, the first anniversary of the massive earthquake.
Related readings:


 Rebuilding the school and hope after the earthquake

 Beichuan middle school to start reconstruction


 Sichuan to rebuild school on anniversary


 Earthquake-destroyed school rebuilt with aid from Air Force
Song's elder son, Song Lei, died in the earthquake, as the 10th-grader was in class at the Beichuan middle school.
According to Wei Qiang, an engineer from the eastern Shandong province who helped designed the new building, it can resist earthquakes of up to 9.0 on the Richter scale.
"More steel and concrete was used in this building" than in the older ones, he said.
Li Qiang, vice headmaster of the primary school, estimated that the cost of the new building was 2,000 yuan (US$294) to 3,000 yuan per square meter, four or five times of the cost of the old building.
Criticism arose after the quake, which left more than 80,000 people dead or missing. The poor quality of school construction was blamed for the death of many students. It is unknown how many children died in the disaster, but more than 7,000 schools collapsed in southwest China.
Li recalled that the old three-story school was built in the 1980s, using just concrete blocks without a steel framework.
In the Beichuan middle school, where old Song's son died, just four thin steel bars were used in each section of the wall, instead of eight thick ones as shown on the blueprint.
Many bereaved parents took to the streets, questioning construction quality and demanding a reply from local governments. Officials apologized and the Communist Party chief of one county even knelt before parents.
The quality of schools in Sichuan became a national issue overnight.