The construction of schools must be safe, reliable and closely supervised, according to a State Council circular issued ahead of the one-year anniversary of the Sichuan earthquake.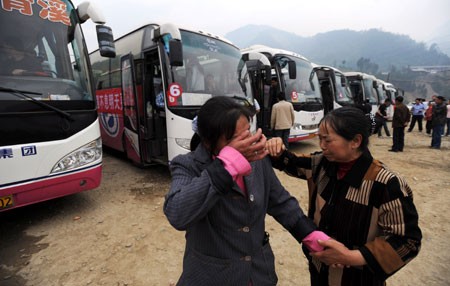 More than 250 Qingchuan county residents prepare to leave for new houses in Qionghai as part of relocation project. [Xinhua] 
Construction authorities have been ordered to strengthen safety controls and provide technical support in the building and reconstruction of all school projects.
It said there would be severe punishment for those found engaged in illegal practices.
"The quality of school buildings is a concern of social stability and should be the focus of local authorities at present and in the coming days," it said.
It comes as the nation prepares to mark the May 12 anniversary of the 8-magnitude earthquake in which many students were killed and buried under collapsed school buildings.
Related readings:


Life resumes normal after earthquake


A memory dilemma in face of ruins


Elixir of life pours into quake village


Film crew's first-hand experience of Sichuan earthquake


Earthquake claims new victim
According to the latest Sichuan provincial construction authority statistics, a total floor area of 1.997 million sq m of school buildings collapsed, accounting for 1.3 percent of the total collapsed floor space.
Since that time, the construction quality of school buildings has been a major cause of public concern.
A nationwide campaign was launched last June to test all school buildings and find those with problems that might endanger students.
"It is what the government should have done long ago," said Wang Yingchao, mother of a 13-year-old girl, in Beijing.
"A circular may not be enough to curb the quality problems in school building, and there should be strict punishment for those in breach of the rules," a netizen from Changzhou, Jiangsu province, wrote on news portal sina.com.cn.
Yesterday, Shanghai-based Oriental Outlook quoted Liu Zuoming, head of Sichuan provincial justice department, as saying that he did not support investigating who was responsible for any building collapses.
The collapse should be partly blamed on inadequate earthquake-proof construction standards for buildings, he said. It cannot be the responsibility of a sole individual, he added.
An online survey of 12,000 netizens found 90.4 percent did not agree with Liu and wanted people engaged in substandard construction practices to be severely punished.
Only 7.5 percent of those surveyed supported Liu, saying human failure played little role in the devastating earthquake.
Deputy Sichuan governor Wei Hong said the unusual earthquake was the fundamental reason for damaging a large number of public buildings.
Sichuan is planning to rebuild 9,145 schools, 90 percent of which will complete by the end of this year.