BEICHUAN, Sichuan -- Near the Beichuan old county town, destroyed in last year's May 12 earthquake, Gong Shuqing opens her booth selling ethnic Qiang knick-knacks to tourists.
Wearing a red T-shirt, embroidered waistcoat, and a big smile, 36-year-old Gong Shuqing looks younger than her age.
Tourists are unaware that just 100 meters away under the ruins lies her husband, one of 4,700 people still officially missing.  With the 15,600 confirmed deaths, the county lost two-thirds of its population in one day.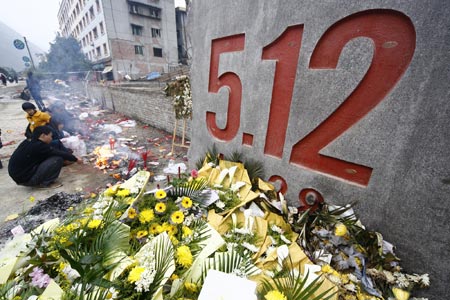 People lament over their deceased relatives in May 12 Sichuan Earthquake, in Beichuan, a quake-jolted county of southwest China's Sichuan Province, April 2, 2009. [Xinhua]
Before the 8-magnitude quake, Gong's husband was a construction foreman in this developing county.
Related readings:


 One year on, quake orphans struggle to carry on


 Another baby, solace for bereaved in quake zone


 Mental health check for quake victims


 After fatal lesson, China builds stronger school in quake zone

 12 of 623 quake orphans adopted: official
"He cared very much about me and would not let me go out to work, except for light housework around the house," says Gong.
The breadwinner left two sons, aged 3 and 12, and his parents for Gong to support.
Pushed to make a living, Gong could not afford to immerse herself in grief. The housewife became a souvenir vendor in November and earns about 1,000 yuan (US$150) a month, enough for the family's daily needs.
Gong likes working near the ruins of the old county town.
"I feel closer to him," she says. "I believe his soul is still there.
"My love and whole life is in that county."
In the run-up to the first anniversary of the quake, the ruins, including Beichuan, are becoming tourist attractions.
Qingchuan, another quake-torn county in Sichuan Province, opened the first earthquake theme park, Donghekou, on November 12, and in the five months since has received 250,000 visitors.
Sichuan, home to giant pandas, scenic nature reserves and ancient cultures, has long been a tourist destination. More than 7 million people traveled to its quake zones during the Chinese New Year, according to the provincial tourism bureau. The so-called quake ruins tourism brought 1.87 billion yuan (US$28 million) to the province, contributing 40 percent of total revenues during the week-long holiday.
The tourists, however, have also triggered controversy on the Internet.
"Making the disaster-hit area a place of entertainment is disrespectful to the dead, and will hurt their families deeply," said one posting.