GUANGZHOU - A heatwave swept through most of south China's Guangdong Province as Fung Wong, the eighth tropical storm of the year, intensified into full-scale typhoon late on Saturday.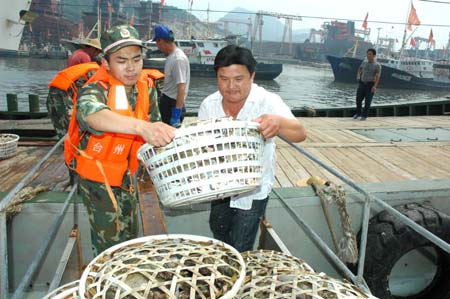 A paramilitary policeman helps a local fisherman unload goods in Taizhou, East China's Zhejiang Province as the tropical storm Fung Wong will make landfall head-on in neighbouring Fujian Province. [Xinhua]
High temperatures occurred in 68 cities and counties, of which nine cities and counties were hit by temperatures exceeding 38 degrees Celsius. Many areas issued the orange warning heatwave signal, said Lin Liangxun, the Guangdong Provincial Meteorological Observatory chief forecaster.
Related readings:


 E. China provinces issue warnings for tropical storm Fung Wong


 Tropical storm Kalmaegi leaves east China


 East China province issues tropical storm alert


 Tropical storm lands in Fujian
Guangzhou, the provincial capital, on Saturday hit 37.7 degrees Celsius, a record high this summer at Wushan Observatory. The highest temperature of 39.2 degrees Celsius was said to happen in Lianzhou, according to Lin
By 5 p.m. on Saturday, the eye of typhoon Fung Wong, or "Phoenix", was monitored at 21.4 degrees north latitude and 126.4 degrees east longitude, or 560 km east of Taiwan, packing up to force-12 winds.
The typhoon was expected to continue to move westward at a speed of 15 km to 20 km per hour and would approach Fujian Province after reaching Taiwan early on Monday, Lin said.
Under the impact of the advancing typhoon, it will remain sunny for most parts of the southern province through Monday, and the maximum temperature in northern and eastern Guangdong will be as high as 37 to 38 degrees Celsius.
Elsewhere, meteorological observatories in Fujian and Zhejiang, two provinces on the eastern seaboard, on Saturday issued warnings to ships at sea or ocean-going vessels for tropical storm Fung Wong.
The storm first appeared in the ocean waters east of the Philippines at 2 p.m. on Friday and intensified into a strong tropical storm at 8 a.m. on Saturday. The eye of the storm was monitored at 21.8 degrees north latitude and 127.9 degrees east longitude.
As Fung Wong moved westward, it brought about strong winds and a lot of rain in the areas it swept through.
A Fujian provincial meteorological observatory forecast said it would make landfall head-on in Fujian late on Monday and early Tuesday.
Before its arrival, Fujian was gripped by freak weather on Friday and most of Saturday: heatwave, thunder and lightning, torrential rain and hail stones.