FUZHOU/HANGZHOU - Meteorological observatories in Fujian and Zhejiang, two provinces on the east China coast, on Saturday issued warnings to ships at sea or ocean-going vessels for tropical storm Fung Wong.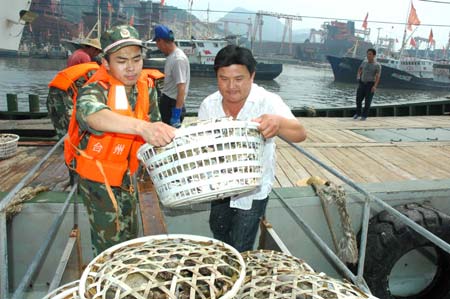 A paramilitary policeman helps a local fisherman unload goods in Taizhou, East China's Zhejiang Province as the tropical storm Fung Wong will make landfall head-on in neighbouring Fujian Province. [Xinhua]
The eighth tropical storm of the year appeared in the ocean waters east of the Philippines at 2 p.m. on Friday, and intensified into strong tropical storm at 8 a.m. on Saturday. The eye of the storm was monitored at 21.8 degrees north latitude and 127.9 degrees east longitude.
Related readings:


 Tropical storm Kalmaegi leaves east China


 East China province issues tropical storm alert


 Tropical storm lands in Fujian


 Tropical storm floods southern Taiwan, 4 killed, 5 missing
As Fung Wong moved westward, it brought about strong winds and a lot of rain in areas it swept through.
A Fujian provincial meteorological observatory forecast said it would make landfall head-on in Fujian late on Monday and early Tuesday.
Before its arrival, Fujian was gripped by freak weather on Friday and most of Saturday: heatwave, thunder and lightening, torrential rain and hailstones.
The local meteorological observatory in Fujian gave a blue-color warning before midday on Saturday predicting there were more days of strong winds and downpours ahead beginning on Sunday. It warned ships working in the Taiwan Strait and passing vessels to take special notice.
The meteorological observatory in Zhejiang on Saturday also issued warnings to ocean-going ships for the approaching of Fung Wong and accompanying gale on the sea.
The Zhejiang observatory said the eye of the tropical storm was moving westward at a speed of 15 km to 20 km per hour.
The heatwave that had lingered in Zhejiang over the past several days was ended at midday on Saturday by showers, thunder showers, alongside strong wind.
The forecast said the strong winds packed up by Fung Wong would continue in the central and southern parts of Zhejiang until Tuesday.