FUZHOU: Tropical storm Kalmaegi made landfall in the coastal area of Fujian province on Friday evening, the provincial meteorological station said.
The storm landed in the town of Changchun, Xiapu county, at 6:10 pm with winds of up to 90 kph, after killing six people in Taiwan.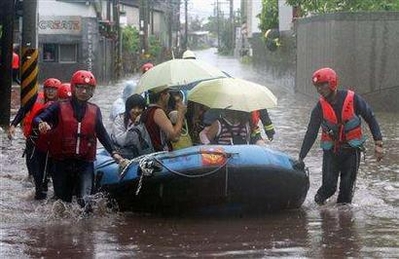 Rescuers evacuate people stuck in a flood as Typhoon Kalmaegi hits Taichung county July 18, 2008. [Agencies]
More than 360,000 people were evacuated in Fujian and neighboring Zhejiang province, and 61,000 fishing vessels were called back to harbor.
Kalmaegi, a Korean word meaning seagull, was also expected to affect financial hub Shanghai on Saturday.
The seventh storm this year will then move northwest and further inland, state television said.
Kalmaegi landed near Ilan in north Taiwan late on Thursday when it was a typhoon. At least six people have been killed on the island. The storm also damaged many key roads and affected rail services in some areas on the island.
A baby girl was killed after a mudflow buried a house in Kaohsiung early on Friday. Three bodies were found in other areas of Kaohsiung.
The storm cut the water supply to 670,000 households in Taiwan and storm water as deep as a one-story building inundated streets in many areas, trapping residents.
Agencies - Xinhua