Taohua Mountain -- Water began draining from an earthquake-formed lake Saturday, easing the immediate threat of flooding in China's disaster zone, officials said.
Worries about the collapse of Tangjiashan lake dam has driven authorities to evacuate more than 250,000 people and mount efforts to build a diversion channel to carry the water over the landslide that blocked the Tongkou River.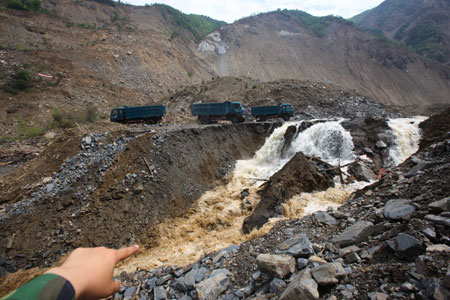 Water from Tangjiashan "quake lake" flows into a man-made sluice channel in Mianyang City, Southwest China's Sichuan Province, June 7, 2008. [Xinhua] 
Workers deepened the channel Friday, and after steady rains, water flowed into the spillway Saturday morning.
By 8 am, water that had been building behind the landslide for nearly four weeks appeared to stabilize, the State Council, China's Cabinet, said in a report posted on its webSite.
"Emergency work is still proceeding urgently, but in the foreseeable future there's no risk of the dam collapsing," the Xinhua News Agency quoted Chengdu Military Region Deputy Commander Fan Xiaoguang as saying.
Experts said no strong rainfall is expected until June 16, which will be good for the quake relief work. The possibility of a strong aftershock measuring 6.0 or above on the Richter scale is also slim, Xinhua said.
Engineers were monitoring bridges and river banks downstream to see if they would hold under the rush of water, and work crews were trying to dig a secondary channel to improve the flow, Xinhua reported.
The potential collapse of the lake threatened to flood an area that is home to more than 1 million people downstream and compound the misery in the disaster zone of the May 12 magnitude-8 quake that has killed nearly 70,000 people.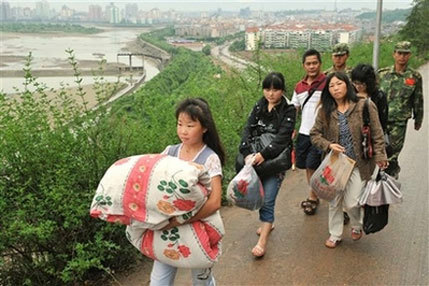 Earthquake survivors carry their belongings to move to higher grounds as the drainage has begun at the swollen Tangjiashan quake lake at Mianyang in Southwest China's Sichuan Province on Saturday June 7, 2008. [Agencies]
To get out of harm's way, some people displaced by the quake have moved as many as five times, fraying nerves in makeshift shelters in Sichuan province.
"I can't even cry, even if I want to. First it was the earthquake, now it's floods," said Yu Taichun, a doctor who was keeping watch over a small medical center in a tent city of about 2,500 people on the slopes of the Taohua, or "Peach Blossom" Mountain.
Yu said he has moved five times since the quake, arriving about two weeks ago at the latest camp overlooking the town of Qinglian, about 20 miles downstream from Tanjiashan lake.
Tangjiashan lake is the largest of more than 30 that have formed behind landslides caused by the earthquake on May 12.
Even with water flowing into the specially built diversion channel, engineers were uncertain about controlling the discharge of water, Xinhua said.
Plans were in place to evacuate more people in Mianyang. In recent days, work teams shored up a railway bridge with additional steel beams, while China National Petroleum Corp. reinforced a major oil pipeline, Xinhua said.
The quake centered in Sichuan province killed 69,134 people, with 17,918 still missing, according to the latest government figures.