NEW YORK -- Oil prices made their biggest single-day leap ever Friday, dragging the Dow Jones industrials down nearly 400 points and raising the once-unthinkable prospect of $150 oil and more record gas prices by the Fourth of July.
The meteoric rise of nearly $11 for the day piled atop an increase of almost $5.50 the day before, taking oil futures more than 13 percent higher in just two days, easily a record on the New York Mercantile Exchange.
And those weren't the only stunning numbers of the day: The US government also reported the country's unemployment rate zoomed to 5.5 percent in May, a monthly rise of half a percentage point, the biggest in 22 years.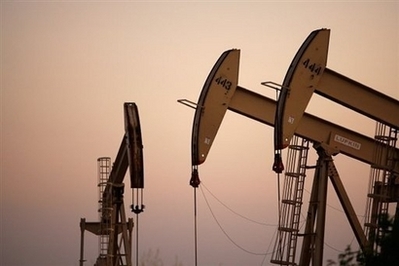 Oil rigs extract petroleum in Culver City near Los Angeles, April 2008. World oil prices paused close to 128 dollars per barrel as traders monitored ongoing supply concerns alongside fresh hints that OPEC could pump more crude. [Agencies]
Oil settled at $138.54, a rise of more than 8 percent. The surged came after Morgan Stanley analyst Ole Slorer predicted the prices could hit $150 by Independence Day, when millions of Americans take to the roads.
That means no end in sight for spiraling gas prices, already above $4 per gallon in much of the country.
Even longtime market observers were shocked by the magnitude and speed of oil's rally.
"We're into unchartered territory, and somewhat off the map as far as historical precedents are concerned," said Jim Ritterbusch, president of energy consultancy Ritterbusch and Associates in Galena, Ill.
Besides the jump in the unemployment rate, the US Labor Department said employers had cut 49,000 jobs in May, the fifth straight month of nationwide losses. Job losses for the year reached 324,000.
The White House said US President Bush was considering further plans to help energize the economy, already teetering on the edge of recession and crippled by a tumbling housing market and other factors.
On Wall Street, the Dow plunged 394.64 points, more than 3 percent, to close at 12,209.81, the biggest drop in more than 15 months in both percentage and points terms.
Wall Street had managed to shrug off oil's advance on Thursday but succumbed to extreme anxiety Friday.
The stock market's great concern of late has been whether consumers would curb their spending on non-essentials as they were forced to pay more for gas and other staples.
The previously unthinkable idea of $150 oil, and gasoline that will keep climbing above $4, made it clear to investors that consumers would be forced to be even more conservative than they have been in recent months.
Before Thursday, oil had receded nearly $13 a barrel from its highs, a respite from its nearly record-every-day march. But the end of the week sent it right back up again.
The burst in oil prices also raised the prospect of accelerating inflation by adding to already strained transportation costs -- which will send prices higher throughout the economy.